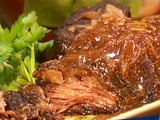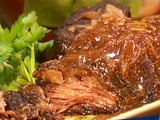 Pot Roast
Ingredients:
4 lbs chuck roast (bone in)
12 flour tortillas, warmed
2 garlic cloves, cut in slivers
2 onions, coarsely chopped
1 cup beef broth
1 tablespoon salt
1 teaspoon freshly ground black pepper
2 tablespoons vegetable oil
1 cup tomato sauce
1/2 teaspoon ground cumin
1 teaspoon dried Mexican oregano
2 pasilla chiles, seeded
2 dried ancho chiles, seeded
Preparation:
Season the roast with salt and pepper. Pierce the meat with a knife in several places; insert the garlic slivers. Heat the oil in a large braising pan over high heat. Brown the roast for about 3 minutes on each side; add the onions. Cook for about 5 minutes, until the onions are tender. Add the tomato sauce, broth, cumin and oregano. Reduce the heat to low. Add the chiles; let simmer for about 10 minutes or until soft. Remove the chiles and 1 cup of the braising liquid; transfer to a blender. Purée the chiles and return to the pot. Cover and simmer for about 3-4 hours, until the meat falls completely from the bone and shreds easily with a fork. Transfer the meat to a cutting board. Remove the gristle and bones. Shred the meat and place it on a serving plate. Pour the braising liquid into a small bowl or gravy boat. Serve with warm tortillas.