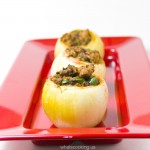 You can publish this article on your website as long as you provide a link back to this page.
This article was last updated on April 16, 2022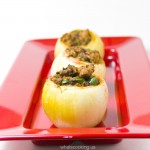 Stuffed Onions
Ingredients :
6 onion
1 tbsp skimmed yogurt
1 tsp canola oil
Spices :
1 tsp red chilli powder
½ tsp haldi powder
1 tsp coriander powder
1 tsp amchur
salt to taste
mint powder, finely chopped
Method :
Combine all the spices, add yogurt and make a paste.
Slit onions in halves or quarters, cut deep but do not separate pieces.
Stuff the onions with the spice paste.
Heat a frying pan and add oil. Put any left over paste and stir for 2 minute.
Put all the onions in the pan, cover it and allow it to simmer for 10 minute.