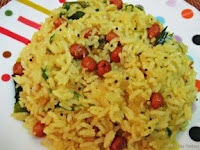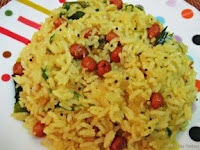 Nimbu Rice
Ingredients :
1 cup rice
2 tbsp oil
1 tsp mustard Seeds
1 tsp urad Dal
1 tsp chana Dal
2 tbsp cashews
¼ tsp haldi
1 cup mixed veg
Juice of one lemon
Salt to taste
Method :
Cook the rice in salted water.
Heat the oil and put all other ingredients except lemon juice.
Sauté for a while and put the rice and lemon juice.
Mix well and take care not to break the rice grains.
Ready to serve.