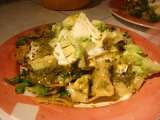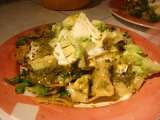 Mexican Chiliquiles
Ingredients:
1 dozen corn tortillas
1 lb ground beef
2 lbs Monterey Jack cheese, grated
3 garlic cloves, minced
2 onions, chopped
2 (15 ounce) cans diced tomatoes
1 (4 ounce) can chopped green chilies
1/4 teaspoon ground cumin
1 teaspoon chili powder
1 pint sour cream
salt and pepper, to taste
Preparation:
Saute the onions, garlic and meat until the onions are clear. Drain any fat. Add the tomatoes, spices, salt and pepper to taste, and simmer for about 30 minutes. Add the chopped diced chilies. Cut the tortillas into fourths. In a 13x9x2-inch pan, layer half of tortillas, overlapping to cover the bottom of pan. Cover with half the meat sauce and sprinkle with half the cheese. Repeat layers, beginning with the tortillas and ending with the cheese. Bake in the oven at 350 degrees F for about 30-45 minutes (or until the cheese has melted and has started to turn golden). Remove from the oven, spread with a layer of sour cream and serve.