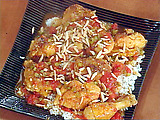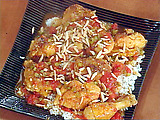 Country Caption
Ingredients :
500 gm chicken breast
2 tbsp ginger-garlic paste
1 tbsp vinegar
1 tsp sugar
½ cup oil
1 onion (peeled and sliced)
salt to taste
For spice paste :
1 tsp cumin seeds
3 red chillies
1 tsp turmeric powder
For garnishing :
1 onion (sliced and browned)
2 potatoes (peeled and cut into strips)
Method :
Wet-grind the ingredients for the spice paste. Sprinkle salt on potato strips and keep aside for 5 minutes. Heat the oil and fry the potato strips till they turn brown and crispy. In the same oil, fry the peeled and sliced onion till it is translucent. Lower the heat and add the spice paste and the ginger-garlic paste. Cook for 3 minutes till a fine aroma rises. Add the chicken pieces and cook on a medium heat till the chicken pieces attain a golden brown colour. Lower the heat and add one cup of water. Cover with a lid and cook till the chicken pieces are tender and the gravy evaporates. Mix in the sugar and the vinegar. Stir gently and transfer to a serving bowl.
Serve garnished with fried potatoes and browned onions.