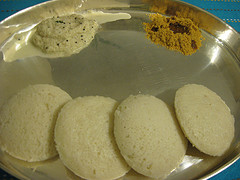 You can publish this article on your website as long as you provide a link back to this page.
This article was last updated on April 16, 2022

Molaga Podi
Ingredients:
1 pav red chillies
1 handful cooking salt (grains)
½ pav chana dal
½ pav black gram dal
3 gms asafoetida
oil for roasting
Method:
Pour a little oil in frying pan and sauté asafoetida in it.
Then roast chana dal, black gram dal and red chillies separately, with oil and keep aside.
First powder red chillies in mixer.
Then put both the gram dals and asafoetida.
Powder as finely as possible.
Finally, put salt and powder it and store in dry bottle.