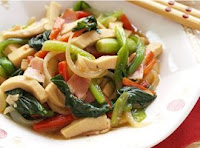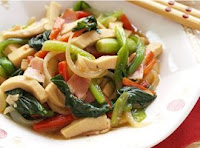 Beancurd with Vegetables
Ingredients:
500 g hard beancurd
Oil for deep frying
50 g baby white cabbage (bai chai/bok choy), blanched
½ carrot, sliced and cut in flower shapes, blanched
3 dried black mushrooms, soaked\
1 tsp chicken stock, soaked
2 tsp oyster sauce
1 tbsp Chinese rice wine
½ tsp sugar
¼ cup chicken stock
1 tsp cornflour, blended with water
Directions:
Cut the beancurd into 8 cm lengths.
Deep fry in very hot oil until golden, then drain.
Pour out all but 2 tsp of oil and put back the beancurd with blanched vegetables, mushrooms, rice wine and sugar.
Stir fry for about 1 minute, then add chicken stock and heat through.
Thicken with cornflour and serve immediately.