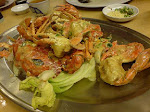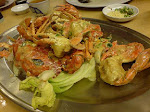 Fried Mantis Prawns
Ingredients:
500 g mantis prawns or large prawns
Oil for deep frying
2 tsp finely chopped garlic
1 tsp salt
1 tsp white pepper powder
1 red chilli, finely chopped
Directions:
Wash and dry the mantis prawns, but do not peel.
Deep fry in hot oil for 3 to 4 minutes until golden brown. Remove and drain.
Discard all but 2 tsp of oil.
Stir fry the garlic for a few seconds until fragrant, then add the fried shrimps and all other ingredients.
Stir fry for a few seconds and serve immediately.