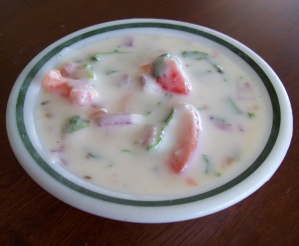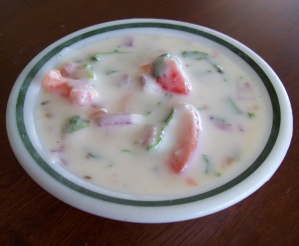 Tomato Onion Raita
Cooking Time: 15 minutes
Serves: 2 – 3 people
Ingredients:
2 cups plain curd / dahi BR> 1 cup tomatoes and onions (finely chopped)
1 tsp ginger (grated)
1/2 tsp coriander leaves (finely chopped)
Salt to taste
Pinch of sugar
2 tsp oil
1/2 tsp split black gram
1/4 tsp cumin seed, mustard seed
1 chili (finely chopped)
2-3 curry leaves
How To Make Tomato Onion Raita:
Mix the tomatoes, onion and ginger. Add some salt and sugar to it and mix it well.
Heat oil in frying pan, add curry leaves to it after that add split black gram fry it for few minute. As the dal turns brown add cumin seed and mustard seeds. When they start to pop add the green chili and fry for few seconds.
Pour the above seasoning over tomato and onion mixture.
Add the yogurt and mix it well.
Serve it with roti or rice.