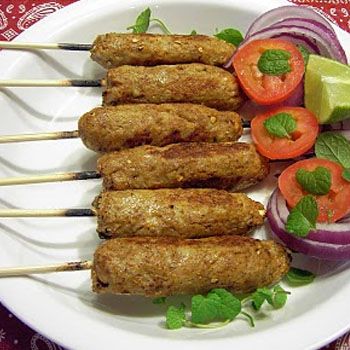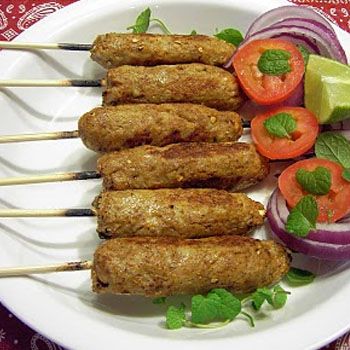 You might have tried different kind of
Seekh kebabs
many times. This time make Behari Seekh Kabab with this recipe, you will definitely say WOW! The recipe is spicy, aromatic and luscious. Here is the method of grilling Behari Seekh Kabab on the coal, but if you don't have any arrangement of coal, then no need to worry. You can make this Behari Seekh Kabab recipe on your stove by following the same recipe. Or bake it in oven for 350 to 400 degrees for 25 to 30 minutes and then give the coal steam for barbeque effect.
Ingredients for Behari Seekh Kabab:
– Boneless Beef 1kg (in thin steaks shape)
– Yogurt 1cup
– Mustard oil 1 cup
– Raw papaya 2 Tb-sp
– Onion paste 2 Tb-sp
– Ginger paste 1 Tb-sp
– Garlic Paste 1 Tb-sp
– Cumin powder 1 tea-sp
– Black pepper 1 tea-sp
– Salt 1 tea-sp
– Red paprika powder 2 tea-sp
– Garam Masala 1 tea-sp
– Poppy seeds(khus khas) 1 tea sp
– Cooking oil
Method to make Behari Seekh Kabab:
– Apply the salt and mustard oil on beef pieces (beef parchey). Let it marinate for 2 hours in salt and mustard oil.
– Take a bowl and mix yogurt, raw papaya, onion paste, garlic ginger paste, all spices, poppy seeds. Now mix the beef pieces (parchey) in this yogurt mixture and marinate it again for 2, 3 hours.
– When the beef pieces get marinade, sew them on skewers separately. Use one skewer for each beef piece (parchey)
– Grill the skewer on low heat of coal for at least 10 to 15 minutes each side. Turn or rotate the skewer so that Behari Seekh Kabab can grill evenly.
– Brush the oil time to time.
– When it Behari Seekh Kabab are turned into light brown color, remove them from flame and squeeze the lemon juice
– Serve hot with onion and cucumber salad and roghni naan.
Click HERE to read more from Fashion Central.