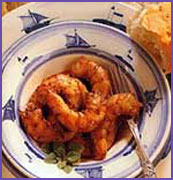 This article was last updated on April 16, 2022

Ingredients:
¼ kg shrimps
1 egg, beaten
¼ tsp chilli paste
1 tbsp chopped onion
1 tsp pepper powder
1 ½ tbsp chopped celery
1 ½ tbsp chopped parsley
1 tsp ginger powder
1 tsp garlic powder
Salt to taste
Method:
De shell and de-vein the shrimps and boil them in salt water for 5 minutes.
Mix all the ingredients to the shrimps to the shrimps and place them on a greased baking dish.
Bake in moderate oven for 30 minutes.
Ready to serve hot.
You can publish this article on your website as long as you provide a link back to this page.