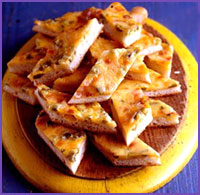 You can publish this article on your website as long as you provide a link back to this page.
This article was last updated on April 16, 2022

Ingredients:
2 to 3 slices white bread
2 tbsp butter (approx.) a little mustard
3 to 4 tbsp grated cooking cheese
chilli powder (optional)
salt and pepper to taste
Method:
Toast the bread slices on one side only. Keep it to cool.
On the untoasted side, apply the butter and spread with a little mustard.
Sprinkle thickly with the grated cheese and a little salt and pepper.
Grill until the cheese has melted and browned.
If you want, sprinkle a little chilli powder.
Cut into fingers or into squares
Ready to serve.