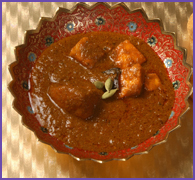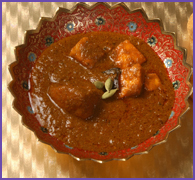 Ingredients :
beans, washed and chopped
potaoes, washed and chopped
1 cup toovar dal
½ tsp khus khus
1 tsp mustard
2 tsp coconut grated
4 red chillies
a few curry leaves
½ tsp turmeric
1 tsp salt to taste
Method :
Cook toovar dal and keep it aside.
Boil beans and potatoes and put a little salt and turmeric to this.
Wet grind coconut, khus khus, mustard, and red chillies.
Put this masala to the boiling vegetables, and cook until the flavour comes out.
Add the cooked toovar dal and allow it to boil for a few minutes.
Heat some oil in a pan and put the mustard.
When they crackle, put curry leaves, little hing, and add this to the above.