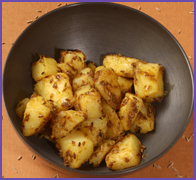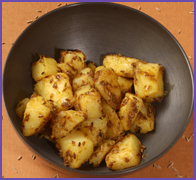 Ingredients :
2 lb russet potatoes
olive oil spray
¼ tsp turmeric
½ tsp cumin
¼ tsp cayenne
salt & pepper
Method :
Preheat oven to 400F. Remove oven racks & spray them with oil.
Wash potatoes & slice them lengthwise into sticks ½" thick or crosswise into rounds 1/3″ thick.
Shift to a baking pan & spray well with oil. Put seasonings & toss to coat.
Place the rounds in a single layer on the oven racks.
Place the racks in the centre of the oven.
Bake until the potatoes become tender, with a deep, golden-brown crust, about 20 to 25 minutes.
Ready to serve.