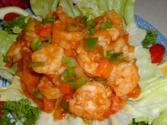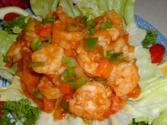 Ingredients :
1 cup bean sprouts
1½ cup water
1 tbsp cornflour
1 tsp grated ginger
½ tsp soya sauce
1 tbsp spring onion finely chopped
½ tbsp oil
salt and pepper to taste
¼ tbsp aji no moto
Method :
Boil the sprouts so that they are done but not soggy. Drain and spread on a plate.
Mix the cornflour in ½ cup water. Heat oil in a pan, add ginger and fry for a minute.
Add the remaining water (1 cup). Bring to a boil. Add the cornflour mixture, and stir till it comes back to a boil.
Add the soya sauce and salt and pepper to taste. Pour thick gravy onto the bean sprouts.
Sprinkle the chopped spring onion on top.
Serve hot.