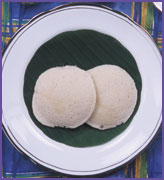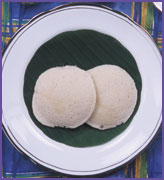 Ingredients :
1 coconut, grated
¼ cup urad dal
2 cups parboiled rice
1 finely chopped onion
1 carrot, grated
½ cup cabbage, grated
1 tsp jeera
4 green chillies, chopped
2 tbsp grated coconut
salt to taste
oil for greasing
Method :
Grind the coconut with 2 cups of warm water and strain to extract the milk.
Keep aside.
Wash and soak the urad dal and parboiled rice together for 2 hours.
Drain and grind to make a fine paste using the coconut milk.
Put the onion, carrot, cabbage, cumin seeds, green chillies, coconut and salt and stir well.
Cover and keep to ferment for at least 3 to 4 hours.
Pour into greased idli moulds and steam for at least 10 to 12 minutes.