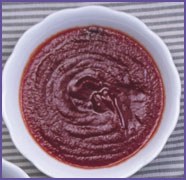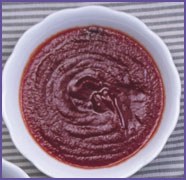 Ingredients :
4 pealed tomatoes
4 pods garlic, chopped
small piece of chopped ginger.
salt and pepper
¼ tsp vinegar
3 tsp oil
½ tsp red chilli powder
¼ tsp aji-no-moto
Method :
Peal the tomatoes and make small cubes out of it.
Take little oil in the pan. when the oil becomes hot, put the ginger, garlic and pieces of pealed
tomatoes in the pan.
Make them soft and crush it. Put salt, pepper, vinegar, aji-no-moto and chillies in it.
Boil the mixture till the oil comes out of it.