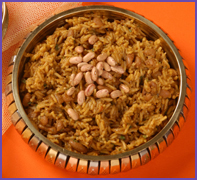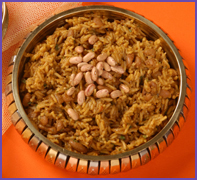 Ingredients :
2 cups rice
1.5 tsp imli paste
10 red chillies
½ cup sesame oil
1 tsp ghee
½ tsp mustard
2 tsp channa dal
¼ tsp hing
½ tsp methi
1 tsp coriander seeds
¼ tsp haldi
curry leaves
1½ tsp salt
cashews
peanuts
Method :
Cook rice with less water as you would cook for pulav.
Spread rice on a plate and sprinkle haldi, little salt and 2 tsp of sesame oil.
Fry mustard, red chillies, channa dal, hing, haldi, and curry leaves in sesame oil.
Mix imli paste with little water, and add this to the above mixture, and allow it to cook until the flavour comes out.
Now add peanuts to this and let it cook until the oil comes out.
Dry fry methi and grind this into a powder.
Dry fry coriander seeds, and grind this into a powder.
Fry cashews in little ghee.
Combine all the ingredients together, and garnish with curry leaves.