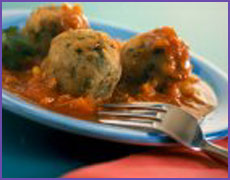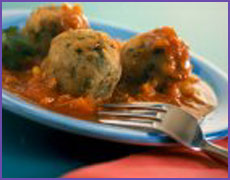 Ingredients :
For the Kofta :
250 gms keema
1/2 tsp red chilli powder
3/4 tsp salt
3/4 tsp jeera powder
3/4 tsp gram masala
1 tsp ginger paste
1 tbsp ghee/oil
1-2 green chillies, finely chopped
2 tbsp curd, 3 tbsp mawa/khoa
1/4 tsp hing
1 tsp saunf
For the Gravy :
Mix Together and beat Well
1/2 cup curd
1/4 tsp red chilli powder
1/2 tsp salt
1/2 tsp dhania powder
1/2 tsp jeera powder
1/2 tsp gram masala
1/2 tsp saunf powder
1/4 tsp soonth
Method :
Churn keema in the mixer to a fine paste
Mix together all ingredients given under koftas.
Mix well and form into 12 long sausage shaped koftas
Mix all the masalas with curd and beat well
Heat oil/ghee Add hing
Fry for 1 minute and add beaten curd mixed with the masalas. Go on stirring till it boils
Add koftas and 1- 1/4 cups water
Cook uncovered on high flame till koftas become firm, about 45 boils. Cover and cook on medium heat for 15-20 minutes till koftas
become tender and little gravy remains and oil float on top. Serve hot.