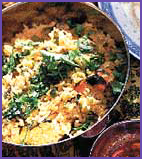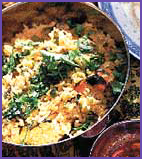 Ingredients :
2 tomatoes
1 onion
½ cup peas, chopped
2 cups rava
¼ tsp mustard
1 tsp urad dal
1 tsp channa dal
a small piece ginger
4 green chillies
2 cloves
¼ tsp turmeric
¼ tsp cashew
chopped cilantro
a few curry leaves
½ lemon juice
3 tsp cooking oil
2 tsp ghee
1.5 tsp salt
Method :
Sauté mustard, urad dal, channa dal, green chillies, ginger, curry leaves, and onions in oil.
When onions turn light brown, put turmeric, salt, chopped tomatoes, and peas, and allow it to cook for a few minutes.
Now add 4 cups of water to the above, and let it boil for a few minutes.
Add 2 tsp of ghee and 1 tsp of cooking oil to the above.
Now add rava, and continue to stir until the rava gets cooked.
Dry roast cloves and pound it well, and add it to the above.
Roast cashews in little ghee and add it to the above.
Garnish with chopped cilantro and squeeze some lemon juice.