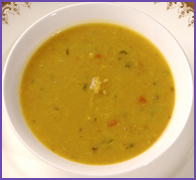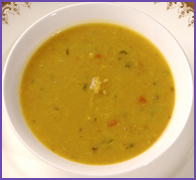 Ingredients:
½ pav toovar dal
6 green chillies
3 red chillies
2 tbsp oil
½ tsp mustard seeds
2 sprigs curry leaves
asafoetida water
salt to taste
Method:
Wash toovar dal thoroughly. Drop into about 1 litre of boiling water.
Cook till soft. Add slit green chillies and continue cooking for sometime.
Add salt and a sprig of curry leaves. Remove from flame when done.
Season with mustard and curry leaves in oil, using a ladle.
Finally add a few drops of asafoetida water. Cover vessel.
Thoi can be prepared with green gram dal or bagda dal by the same method.
Use a little less water in those cases.