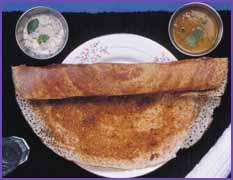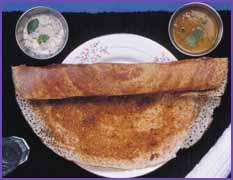 Ingredients :
2 cups toovar dal
1 cup channa dal
½ cup urad dal
4 tsp moong dal
1½ cups cream of rice
8 red chillies
4 green chillies
¼ tsp hing
1.5 tsp salt
cooking oil for making addai
Method :
Soak toovar dal, channa dal, urad dal, moong dal, and cream of rice together in 6 cups of water.
Grind the above coarsely with salt, hing, green chillies and red chillies.
Spread a big spoon full of the above batter on a hot non-stick pan, and put 1 tsp of oil around it.
Keep it to cook on this side for a few minutes, and then turn over to the other side, and put 1 tsp of oil around it.
Wait till the adai turns brown.
Ready to serve hot.