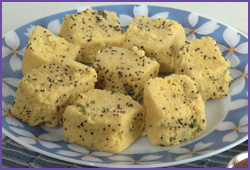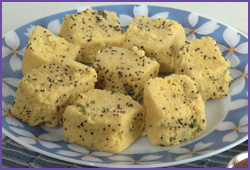 Ingredients:
450 gms gram dal
1″ piece ginger
6 green chillies
1 tsp soda bi-carb
½ tsp haldi powder
4 tbsp oil
2 tsp mustard seeds
¼ tsp asafoetida
20 cloves garlic, finely chopped
juice of 2 large lemons
salt to taste
For garnishing
2 teacups bhel sev
2 tbsp grated fresh coconut
2 tbsp coriander, chopped
Method:
Soak the dal for at least 6 hours. Keep 4 tbsp of dal aside and grind the remaining with the green chillies and ginger.
Put the whole (unground) dal. Put the soda bi-carb, haldi powder and salt. Keep the mixture aside for 4 hours.
Spread a little mixture at a time in a thali and steam to make dhoklas.
Repeat the same procedure for the remaining mixture.
Cool and crumble. Put the sugar, lemon juice and a little salt and stir properly.
Heat the oil in a vessel and put the mustard seeds.
When they crackle, put the garlic and sauté again for a few seconds.
Put the asafoetida and sauté again for a few seconds.
Pour this mixture on top of the crumbled dhoklas.
Garnish with chopped coriander, grated coconut and sev
Ready to serve.