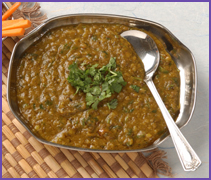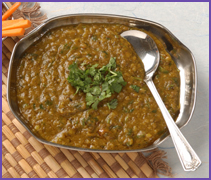 Ingredients :
Oil little
1 big onion
Salt to taste
1 garlic piece
2 carrots, 1 capsicum
1 potato, small ginger piece
7 to 10 beans, 3 to 4 cauliflower pieces
2 to 3 cloves, little elaichi
½ tsp cinnamon
10 to 15 cashew pieces
1 tsp of khus khus
½ cup coconut
Method :
Cut the onions into small pieces and one fourth of the onions into big pieces.
Take a Kadai with little oil and add cloves, cinnamon, elaichi and cashews and then fry a little add ginger, garlic and big pieces of onions
and then keep it to cool a little after everything is fried.
Then grind the whole mixture with coconut and khus khus and keep it aside.
Now take a little oil and add sombu, and then onions, fry it nicely.
Take all the vegetables cut into small pieces and boil it in the microwave.
After everything is cooked nicely add it to the onions and mix it.
Add salt in the ground mixture. Now after everything is mixed well add water if it is very thick.