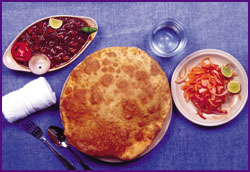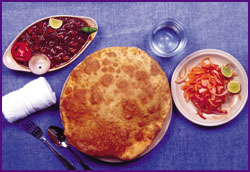 Ingredients :
For the dough :
500 grams maida
2 tbsp fresh curds
1 tsp baking powder
1 tbsp ghee or margarine or butter
1 tsp salt
For the stuffing :
1 tsp maida
2 teacups green peas, boiled
5 green chillies, finely chopped
1 tsp jeera
½ tsp lemon juice
1 tsp ghee
salt to taste
Other ingredients :
Ghee or oil for deep frying
Method :
For the dough :
Sieve the flour properly. Put the curds, baking powder, ghee and salt. Use some warm water to a soft dough.
Knead the dough for 6 to 7 minutes.
Keep the dough in a wet cloth for at least 1 hour. Knead again for 1 minute.
Divide the dough into 20 balls and a flatten a little.
For the stuffing :
Mash the green peas and put the green chillies.
Heat the ghee, put the jeera and sauté till they crackle.
Put the mashed green peas, chillies, lemon juice and salt and allow it to cook for a few minutes.
Sprinkle the flour and cook for 2 to 3 minutes till the mixture becomes dry.
How to proceed :
Roll out each ball of dough into a small round. Keep a tsp of the stuffing in the centre and seal it.
Take a little flour and roll out thinly.
Deep fry in ghee.