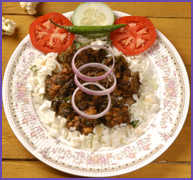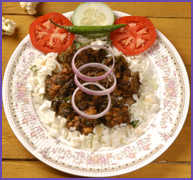 Ingredients :
1 lb cabbage or spring greens
2 tbsp groundnut oil
2 medium onions, sliced in rings
½ tsp cumin seeds
¼ tsp chili powder
1 tsp garam masala
lemon, to serve
Method :
Cut the cabbages into long thin shreds, removing any tough stalks as you go.
Heat the oil in a large frying pan or wok.
Add the onions, fry until wilted and deep golden, around 10 minutes, stirring from time to time.
Add the cumin seeds and cook over medium heat for another minute.
Add the cabbage and fry on moderate to high heat until the leaves are shiny and tender.
Add salt, pepper, chili and garam masala.
Fry for 3-4 minutes, stirring constantly.
Serve hot with lemon wedges.