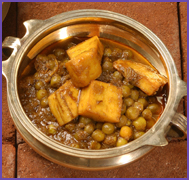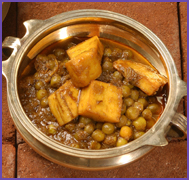 Ingredients :
250 gms panner, chopped
100 gms peas boiled
100 gms tomato paste (mashed tomato)
2/3rd tomatoes cut in medium pieces
25 gms green chilli paste
1 tspl garam masala
½ tsp jeera
25 gms ginger paste
25 gms garlic finely cut
1 tsp ashmiri mirch (deghi)
½ tsp turmeric powder
Method :
Put frying pan on heat with cooking oil.
Now put jeera and garlic and let them turn brown.
Now put tomato and green chilli paste and fry for 4 minutes.
Put boiled peas and medium cut tomatoes.
Also put turmeric, garam masala, ginger paste and kashmiri mirch into it.
Fry for 3 minutes and put paneer. Fry for 3 minutes on high heat.