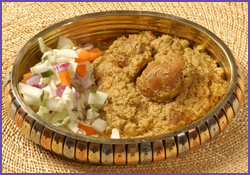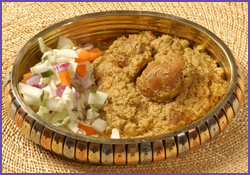 Ingredients :
5 potatoes
2 tsp deghi mirch
2 tsp saunf powder
½ tsp sund powder
½ tsp garam masala
2 to 3 lavang
2 badi elaichi
1 small stick dalchini
1 choti elaichi
Oil
Salt to taste
Method :
Boil and peel the potates leave them to cool at room temperature.
Make small holes in boiled potatoes with the help of a fork from all sides.
Heat oil in the kadai and deep fry these boiled potatoes on a low flame so that they get fried inside also.
Sprinke a hand full of water over these potatoes while in oil only and when they have become red.
Take out potatoes in a dry dish.
Take another pan with lid and put oil for cooking.
When hot put laung, badi elaichi, dalchini, choti elaichi and let fry till the sweet aroma comes out.
When done put deghi mirch and put a mug of water immediately otherwise the curry would become black.
Now put rest of the masalas in this curry and bring to boil for 5 mins.
Put the fried potatoes in this curry and cover the pan with a tight lid.
Simmer for 1 hr. and keep on checking in between so that water does not dry.
Replace from heat when the gravy has becomes thick and oil has come up.
Ready to serve.