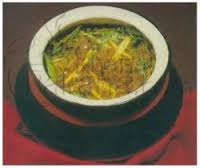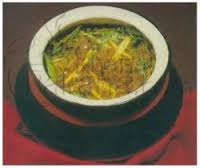 Ingredients:
Potatoes 3
French Beans 10-12
Broad Beans (sem) 1 cup
Carrots 3
Green Peas (shelled) 1/2 cup
Baby Brinjals 6
Fenugreek Leaves (methi) 1 bunch
Onions 3
Ginger Paste 1 tsp.
Garlic Paste 1 tsp.
Red Chilli Powder 1 tsp.
Turmeric Powder 1/2 tsp.
Salt to taste
Oil 1/2 cup
Coriander Leaves 1 tbsp
Green Chillies 6
How to make diwani handi:
Clean the potatoes, french beans and broadbeans and cut into diamond shapes. Trim the brinjal top and slit into two.
Wash and chop fresh fenugreek leaves. Clean and chop coriander leaves.
Slice onions. De-seed green chillies and chop.
Heat oil in a cooking vessel, add sliced onions and lightly brown.
Add ginger and garlic pastes and stir well for a minute.
Add red chilli powder, turmeric powder and salt.
Add the fresh fenugreek leaves and cook for 3-4 minutes.
Add the prepared vegetables and stir well.
Pour a cup of water and simmer till the vegetables are cooked.
Once the vegetables are 3/4 cooked add the coriander leaves and green chillies.
Cook till all the water has evaporated.
Serve hot with Hyderabadi paratha