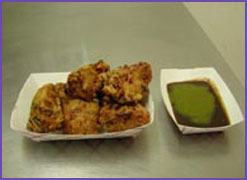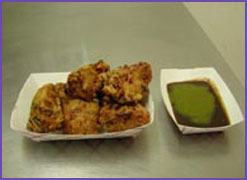 Ingredients :
1 kg palak
250 gms gram flour
200 gms rava
12 green chillies
1 piece ginger
1 tbsp ajwain
1 tbsp cumin seeds
Salt to taste
Oil
Method :
Wash palak, drain water and chop coarsely.
Chop green chillies and ginger in to fine pieces and mix with palak.
Add ajwain, cumin seeds and salt.
Gradually add gram flour and semolina to the palak till the batter is of semi-solid consistency.
No water to be added at all since the batter can be mixed in the juice of palak itself.
Keep oil in a pan.
When the oil is hot, wet hand and take the batter and drop in small portions in to the oil.
Cook in flow fire till the pakodas are of light brown colour.