This article was last updated on April 16, 2022
Canada:

Oye! Times readers Get FREE $30 to spend on Amazon, Walmart…
USA:

Oye! Times readers Get FREE $30 to spend on Amazon, Walmart…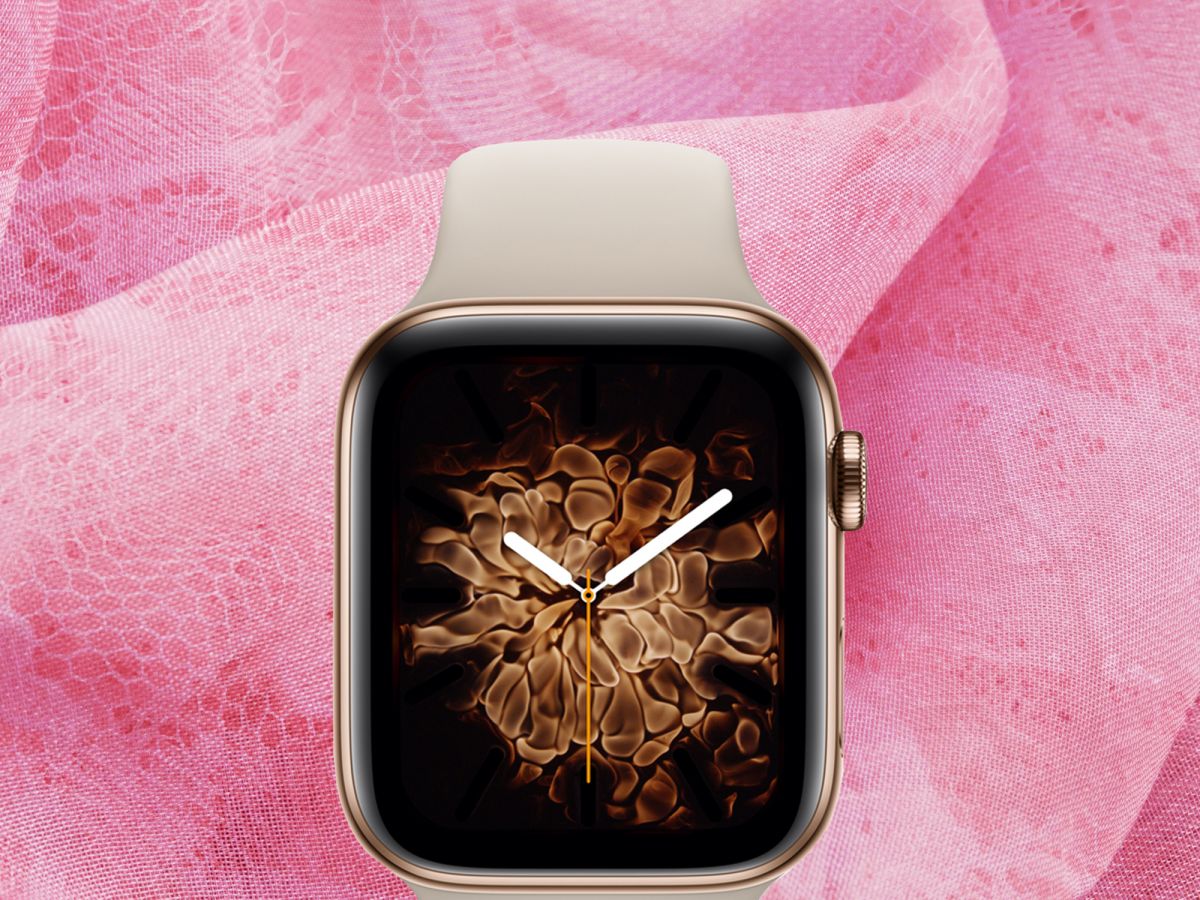 It's already been said, but it's worth repeating: The Apple Watch Series 4 was the star of last week's Apple event in Cupertino. While the new iPhones presented improvements on 2017's iPhone X, the new Watch debuted redesigned and reengineered.
Although a new version of the Watch has been rolled out every year since it was first revealed in 2015, it has always been the supporting player in an iPhone-heavy show. This year, Series 4 took center stage, looking sleeker, easier to perform basic tasks on, and full of innovative new features. Can the new Apple Watch live up to the expectations of its new leading role? We put it to the test to find out.
First Look
Series 4 looks and feels like a premium, high-end smart watch. The redesigned display is 30% larger than before (the 44 mm model has a 977 square mm display area, compared to Series 3's 42 mm model with a 740 square mm display area) and it makes a big difference: Rounded corners that match the Watch's shape, and thinner borders around the display — along with larger text and buttons — make viewing texts and emails a much easier experience. Despite the increase in display size, Series 4 is even thinner (10.7 mm compared to Series 3's 11.4 mm) and doesn't feel bulky.
When turning the digital crown to scroll through messages or music playlists, you'll now feel a pleasantly subtle clicking that mimics the sensation of turning the crown on an old-school (i.e. non-smart) watch. This comes courtesy of a redesigned digital crown with what's known as haptic feedback. It might seem like a small change, and you'll probably forget you didn't have it before after a few days of using the Watch, but it makes a difference.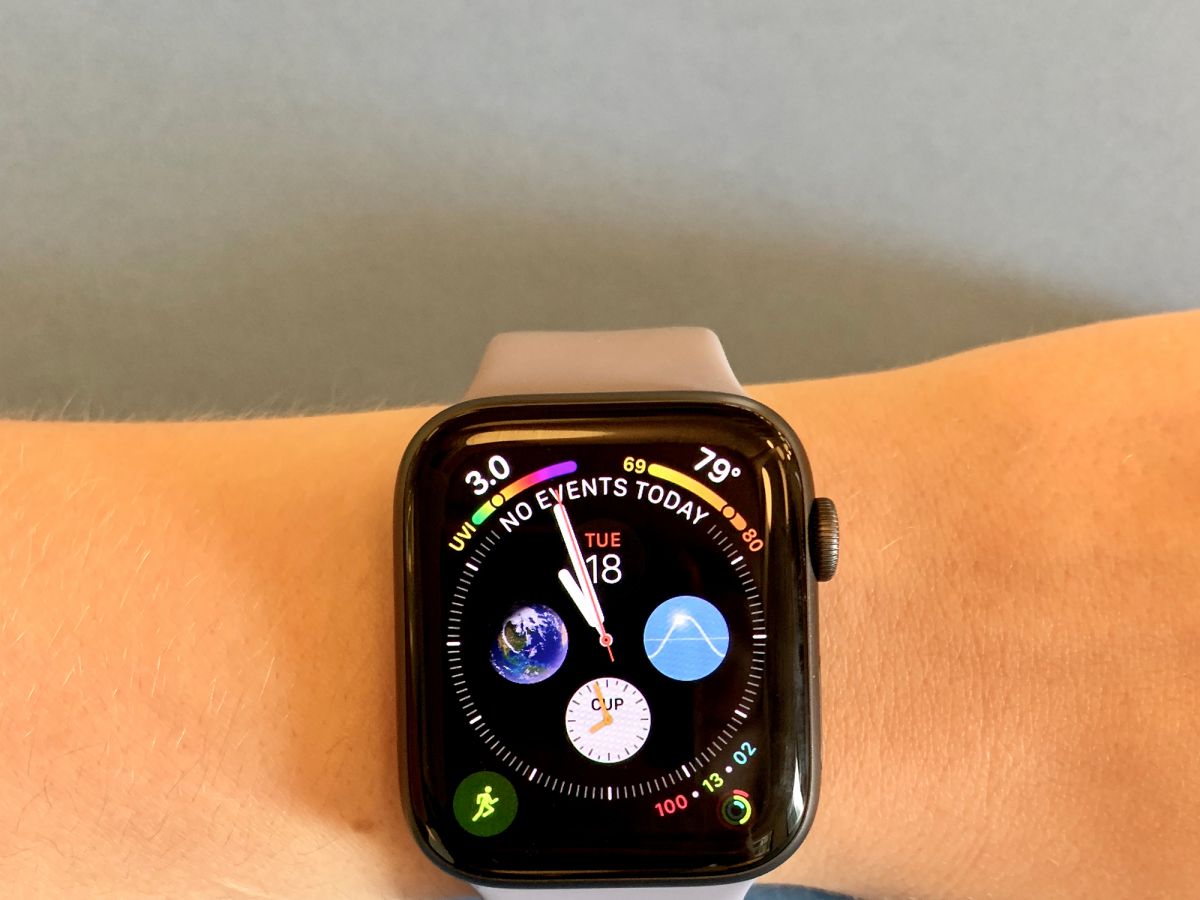 Face Forward
There are multiple new watch faces meant to make the best use of the newly expanded display.
My favorite is the infographic option (right), which lets you add up to eight different "complications" — an unfortunate horology term used to describe any function beyond telling time. On Series 4, you can pick which apps appear in each of the four corners as well as the four circles surrounding the hands of the clock. You're not only seeing the information you want upfront, whether that's the 10-day forecast or the next event on your calendar, you're also seeing more of it.
The other new faces are less about efficiency, and more about aesthetics. Some are so pretty, they almost make it worth not seeing the weather at a glance: There's the silvery liquid metal and cloud-like vapor, as well as iterations on the visualizations used in the Breathe app (above left). They're all very soothing, slightly hypnotic, and guaranteed to distract you from whatever you are doing.
Power Up
Apple promises a full-day charge with Series 4 (the same as Series 3) and that's what I got: After a day of working out, streaming music, conducting calls, dismissing Instagram notifications, and reading emails, I was left with just over 20%. Granted, this would be less if you're doing a long outdoor workout and using GPS, but it's still pretty good.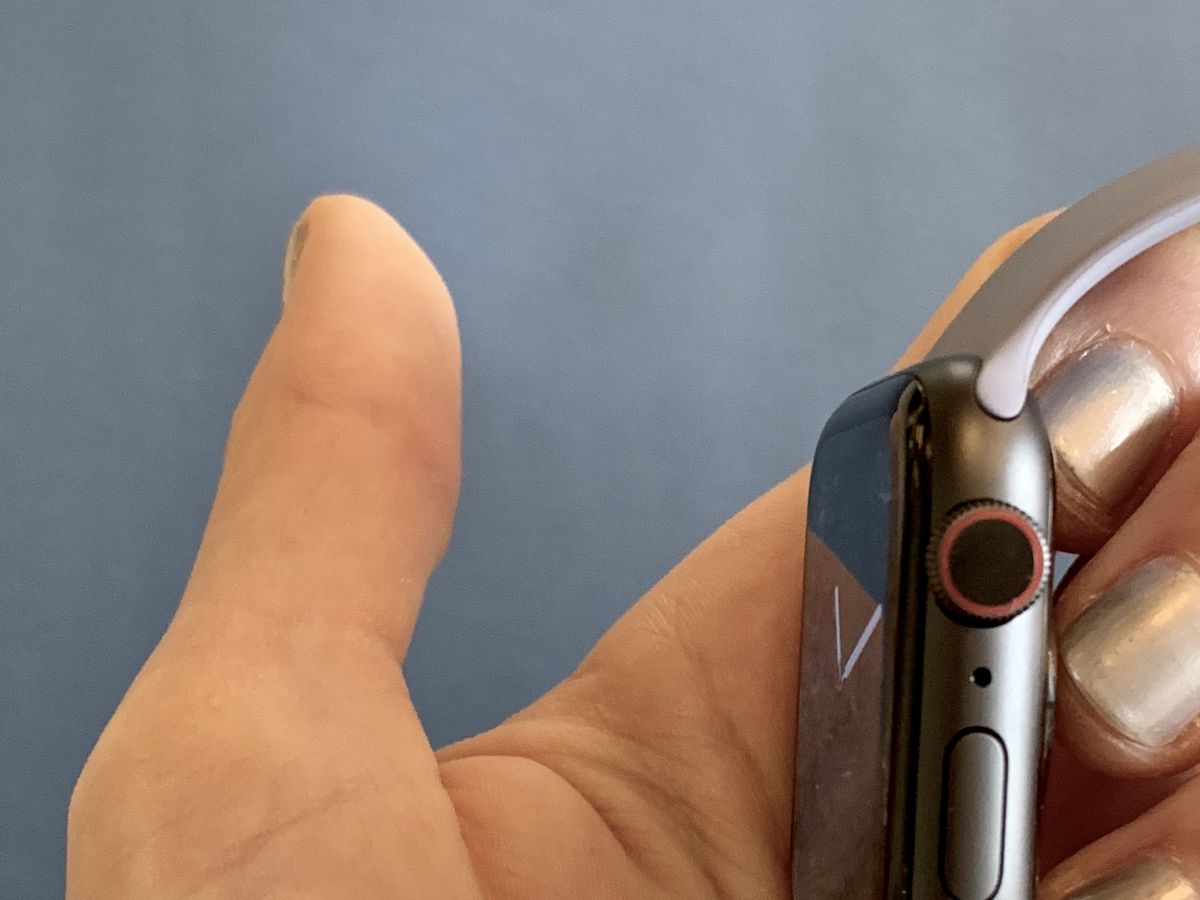 Call Me, Definitely
See that little hole between the digital crown and the side button (left)? That's the microphone, which has been moved to sit on the opposite side of the speaker. The result is noticeably less echoing during calls: I was able to walk down a busy street in Brooklyn on a Friday night, with the Watch down by my side, and still clearly hear everything my sister was saying on the other end (she could hear me well, too). The speaker on Series 4 is a whopping 50% louder than on the Series 3, so you can bid farewell to any Watch-related frustrations involving the dreaded "can you hear me now?"
I only had one small connectivity issue when using Series 4: For some reason, the Watch unpaired from my iPhone after it was set up. But a simple Watch reset (Settings > General > Reset) and re-pairing set things straight.
All About The Beat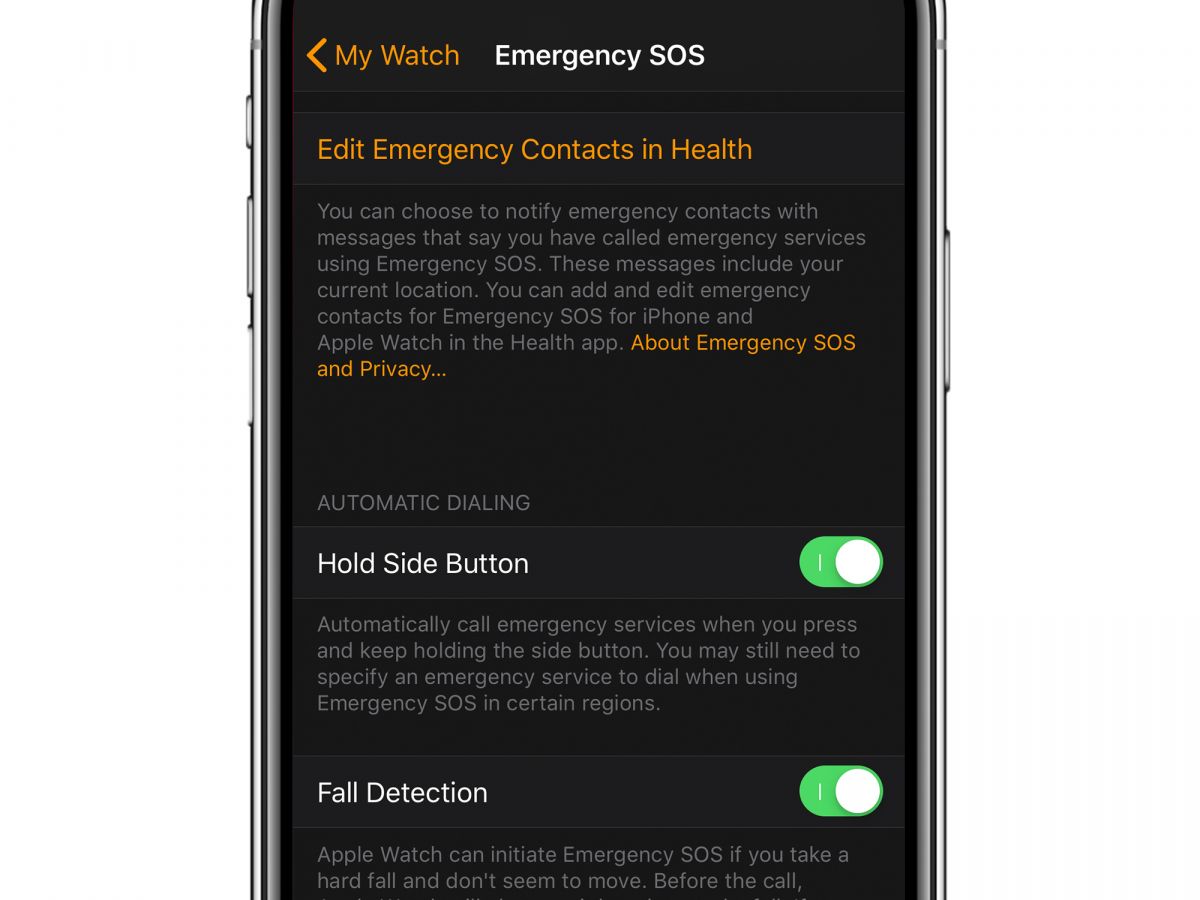 Apple has always emphasized the fitness and health-related properties of the Watch, and this year is no different. A new electrical heart sensor (there's already an optical heart sensor) allows for three additional heart health-related features: ECG readings and an accompanying app, notifications if your heart rate is low (there are already notifications for high heart rates), and notifications if your heart rate is irregular.
I couldn't test any of these — the ECG app will not come out until later this year, and my heart is apparently beating at a completely normal rate, so I didn't get any notifications — but it is important to know they are there. (Although, as The Atlantic pointed out, there is the potential for overdiagnosis with features like these.)
There's also an upgraded accelerometer and gyroscope in Series 4, which will improve measurement accuracy during workouts, and can detect falls, too. If someone falls and is unresponsive for a full minute, their Watch will initiate a call to 911. Anyone under 65 will need to go into the Watch app on their iPhone to turn the feature on (it's automatically switched on for anyone over 65). I turned it on and tried to trick it — dropping my watch, faking a fall — but did not successfully game the system and trigger fall detection in either case. That's a good thing — you don't want a small stumble to set it off.
The Extras
Some of the best new features on Series 4 are the ones that come with WatchOS 5, the free software update anyone with an Apple Watch Series 1 or later can download now.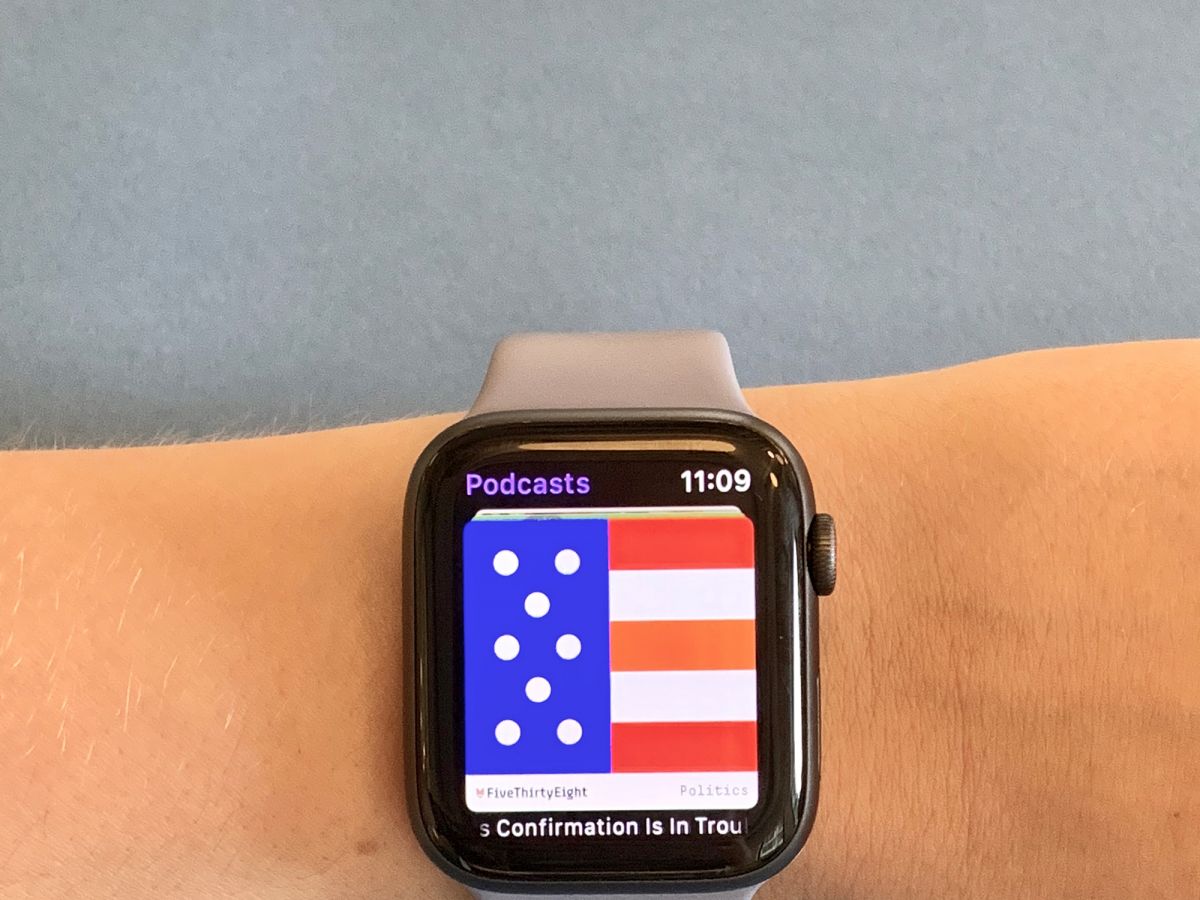 I haven't put the new activity competitions to the test yet, but am a big fan of auto-workout detection: If you forget to start tracking a run, your Watch will prompt you to do so a few minutes in, and still record everything you've done up to that point. This doesn't work for all workouts, but does include indoor and outdoor swims, walks, and runs, as well as cross training and rowing.
It's also nice to be able to stream podcasts now, and especially useful to have new episodes on your iPhone automatically sync to the Watch.
Final Take
This is the first Apple Watch that really feels like it lives up to Apple's original vision for the wearable. The bigger display, improved speaker quality, gorgeous watch faces, and advanced health and fitness features make the $399 starting price seem worth it. If you've held out on buying a Watch altogether, or have been waiting to upgrade from a model without cellular, now is the time to give Series 4 a try.
Click HERE to read more.

You can publish this article on your website as long as you provide a link back to this page.
You can publish this article on your website as long as you provide a link back to this page.