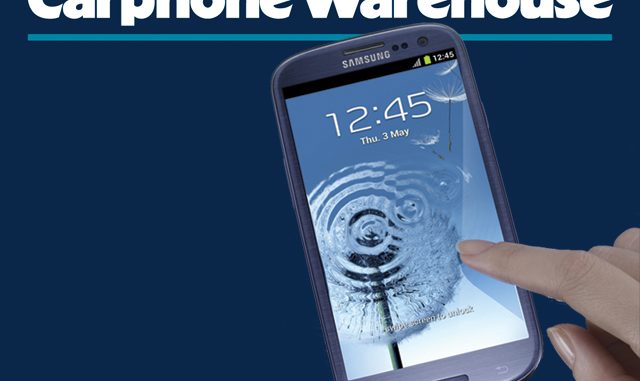 Carphone Warehouse has announced the Samsung's new Galaxy S3 phone as the fastest-selling pre-order phone of the year 2012.
The highly anticipated device will start to sell on 30 May with more than 800 Carphone branches stocking the handset. On 29 May, the Galaxy S3 will be available from 7pm for pre-order customers at selected Carphone stores. The retailer is selling the device for free on monthly tariffs from £28 per month. It was reported earlier this week that 9 million S3s had been pre-ordered by more than 100 carriers.
Chief Commercial Officer at Carphone Warehouse, Graham Stapleton has claimed, "Pre-order demand for the new Galaxy S3 has surpassed expectations since the handset was first unveiled two weeks ago. The first 24 hours alone saw thousands placing their pre-order at Carphone Warehouse."
Stapleton has further added, "The Galaxy S3 is without a doubt the fastest selling pre-order of 2012 so far. We're gearing up for an exceptionally busy launch day at the end of the month as the handset lands on shelves at our stores across the UK."
Korean Samsung is known to be the biggest mobile phone company in the world, ahead of long-time number one Nokia, and also the biggest maker of smartphones ahead of Apple. The Korea Economic Daily also claims that Samsung's factory is operating at full capacity at this time and is producing five million S3 devices a month.
Samsung Galaxy S3, unveiled at an international launch held at London's Earls Court arena, includes the S3′s innovative new features "Smart Stay" prevents the screen dimming and eye-tracking uses the front camera to detect if someone is looking at the screen. The S3 also features a 4.8" AMOLED display, one of the a biggest and widest on the market, also thinner and lighter to hold up, with the ability to automatically initiate a call to a contact onscreen just by bringing up the phone to ear and the phone itself will dial for the user.
Samsung has put forth their optimistic claims that Galaxy S3 will "substantially contribute" to its second-quarter earnings. In the U.K. it will be free with monthly tariffs from £28 per month. The manufacturer is hoping the new device will replicate the success of its predecessor, the SII, whose 20million units have been sold.
Samsung has also announced that the device will be the official phone of the London Olympics, and said that "a limited edition showcase device enabled with Visa's mobile payment application, Visa payWave, will be available for Samsung and Visa sponsored athletes and trialists".
Microsoft's smartphone share is getting below 2 percent globally, while LG and Sony's are also on the fall.
Article viewed on Oye! Times at www.oyetimes.com.