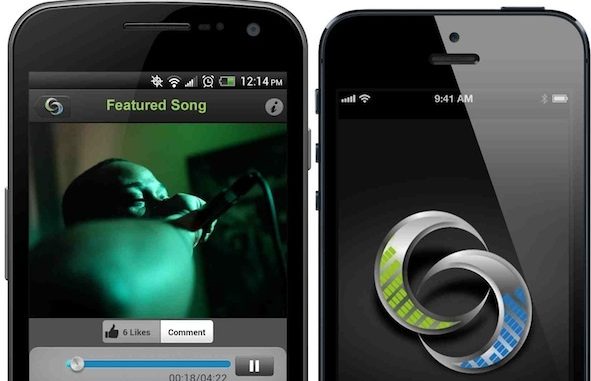 Application Expected to Grow Fan-bases Organically
New York, NY, December 17, 2012 – NervEight teamed up with YourPartyHub, VK, The Fourth Coming, Larro's Kitchen and Catering, Think Before You Ink, and Bushmills Irish Whiskey to celebrate the launch of the new NervEight mobile app (available on iPhone and Android). The app provides a mobile platform for all genres of music to be HEARD, CRITIQUED, and PROMOTED. Musicians can use the app to submit songs which will be featured throughout the week. Featured songs then compete for "Likes" from the NervEight user base. Each day, the featured song with the most "Likes" moves on to the weekly competition where competitors have the chance to win monthly promotion packages and other sponsored prizes.
The exclusive "invite-only"  launch event included a performance by K-Prime (Most Voted Artist at the Do or Die BK event). Some of the guests included Co Founders Steven Eason and Torian Johnson, Rapper K-Prime, Tyler Lyons, Velous, Drew Vision, Ca$h, and more.
Guests also got a firsthand demonstration of the app and became registered users. With such a good starting line-up of users, musicians never know who might end up commenting on their next song!
"We always felt that there was a niche market for a platform that would allow musicians to tap into new audiences and receive direct feedback from existing fans. We feel that as it stands, NervEight is the perfect tool for that type of fan base interaction," said Co Founder Steve Eason. The name NervEight is a play on the vestibulocochlear nerve which is the eighth of twelve cranial nerves, and is responsible for transmitting sound and equilibrium (balance) information from the inner ear to the brain.

NervEight – a dedicated music machine that provides a simple mobile platform for all genres of
music to be HEARD, CRITIQUED, and PROMOTED. The NervEight music machine works by simply accepting song submissions from musicians and featuring those new songs daily throughout the week. In a friendly competition, the featured songs compete for "Likes" from the NervEight user base. The featured song with the most "Likes" for that day proceeds toward an end of the week contest where all the top daily- featured songs compete. The weekly winners compete monthly for promotion packages andother sponsored prizes. Again, all contests are centered on the amount of "Likes" each song receives. The NervEight platform is unique in the sense that all genres and styles of music are welcomed, and ultimately the fans decide what songs should be recognized. The goal is to create a friendly social environment for all artists and music enthusiasts!
K-Prime – Since the age of sixteen K-Prime has been making his name known up and down the east coast; performing and appearing on mixtapes in New York, Philly, New Jersey, Maryland, Virginia, Florida and Texas. He has also earned a degree in recording arts engineering from the entertainment focused, Full Sail University. "Black Sand" a joint project with an artist by the name of G-Two, received major blog attention in DdotOMen, Karen Civil, and MeetThaDealer. It also created an international buzz in the Netherlands, UK, Poland, Canada, Vietnam, Iceland, and France. Primes latest "Dark Nights | Bright Dreams" was very well received and was a colaaborative effort well-known underground producer and Def Jam Affiliate EOM (www.eomdotcom.com).
The Legion Media Group (TLMG) is an integrated marketing firm based in New York City, assembled to harness the talents of its' exceptionally creative, dedicated and astute professionals in response to the questions and complexities concerning the rapidly evolving landscape of media and communication.  TLMG consists of The Legion Media Group, Legion Vegas, Legion LA, MarieDriven PR, RCH Consulting, Team Execution, Noelle PR, 319 PR, NBanks PR, JJacques PR, Trademark PR, The PR Circle,  LCH Business SM & Tech, and Emme Agency, and aims to develop comprehensive, insightful and tailored marketing strategies, employing the most appropriate components of the media mix to effectively articulate and covey the client's message. For more information please contact info@thelegionmediagroup.com">info@thelegionmediagroup.com. Follow our episodes #teamLegion