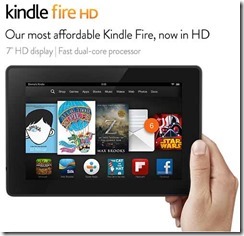 The discount sales on tablets continue with Amazon.com deals on the Kindle HD and HDX. The 7" Kindle Fire HD is The Kindle HDX price dropped to $179 (USA only) for Cyber Monday. Amazon.com warn that quantities are limited.
The Kindle Fire HD 7&Prime, HD Display, Wi-Fi, 16 GB (Canada)

is one of the last year's best selling of an Android tablet especially for Amazon.com customers who are already using Kindle. At $129 for a 7&Prime Kindle reader and Android tablet how can you go wrong?
Since I am in Canada, I ordered the $129 Cyber Monday special since the HDX is not rated much better than the HD by users and obviously not worth twice the price. I will use the Kindle Fire HD as a Kindle reader mostly but who knows.
Kindle Fire HD
The Kindle Fire HD is most affordable Kindle Fire-now with an HD display, faster processor, and longer battery life
Experience videos, apps, games, and more on a stunning HD display (216 ppi / 1280×800)
Fast 1.5GHz dual-core processor-apps launch quickly, games and videos play smoothly
Easy-to-use parental controls let everyone enjoy, worry-free
Ultra-fast web browsing over built-in Wi-Fi, plus updated e-mail and calendar support for Gmail, Outlook, and more
The most popular apps and games: Netflix, Twitter, Facebook, Angry Birds Star Wars II, and more. Over 2 million books, including over 72,000 French language titles, Kindle exclusives, and more. (From Amazon.com)
1,100 Amazon.com customers rated the Kindle Fire HD at 4 stars out of 5.
Kindle Fire HDX
The Kindle Fire HDX 7&Prime, HDX Display, Wi-Fi, 16 GB

is the newest Kindle Fire HD and offers a higher resolution screen and faster processor. The Cyber Monday $179 Kindle Fire HDX 7

is USA only.
The Kindle Fire HDX has a "Perfect-color HDX display, plus powerful quad-core processor for fast, fluid performance and immersive entertainment
Exclusive 7&Prime HDX display (1920×1200), high pixel density (323 PPI), and perfect color accuracy (100% sRGB) for vivid, lifelike images that go beyond standard HD
The fastest processor on a 7&Prime tablet-powerful 2.2GHz quad-core processor and 2GB of RAM for fast, fluid multi-tasking, gaming, and video
Introducing the "Mayday" button-revolutionary, on-device tech support, exclusive to Kindle Fire HDX tablets. Connect for free to an Amazon expert 24×7, 365 days a year
Stay productive on the go with ultra-fast web browsing, built-in OfficeSuite, and updated e-mail and calendar support for Gmail, Outlook, and more
Immersive entertainment experience-see trivia and character backgrounds with X-Ray for Movies and TV, follow along with lyrics with new X-Ray for Music, fling videos to your TV with Second Screen."
900 Amazon.com customers rated the Kindle Fire HDX at 4 out of 5 stars.
By Stephen Pate, NJN Network