The next 11 days of deals at the Microsoft Store leaked – first 20 buyers get the best deals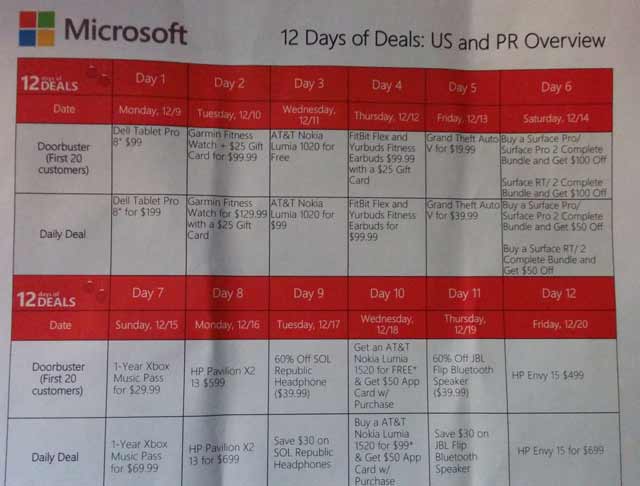 Microsoft leak of 12 Days of Deals
The next 11 Microsoft Days of Deals leaked and it's more like today. The first 20 buyers get up to $400 off and the rest of us get less. Deals are available online and at Microsoft Retail Stores.
Unless you really want the item in the Deal, this will get tiresome fast.
Here are the deals in text form:
December 9 – Dell Tablet for $99 – gone
December 10 – Garmin Fitness Watch + $25 Gift card $99.99
December 11 – AT&T Nokia 1020 for free
December 12 – Fitbit Flex and Yurbuds Fitness Earbuds with $25 gift card for $99.99
December 13 – GTA 5 for $20 (assume Xbox 360 only)
December 14 – Surface Pro combo deal $100 off
December 15 – Xbox Music pass 1 year for $30
December 16 – HP Pavilion X2 13 for $599
December 17 – 60 percent off SOL Republic Headphones for $40
December 18 – AT&T Lumia 1520 Free and $50 app card with purchase
December 19 – JBL Flip Bluetooth Speaker for $40
December 20 – HP Envy 15 for $499
Credit goes to survsteve@redflagdeals
Depending on your interests, the HP Envy 15 at $400 or $300 off the current price is the best deal, dollar-wise. Also interesting might be the Nokia Lumia 1020 and 1520 phones.
Microsoft is squandering the chance it has to build momentum. First, they are counting on blogs like this one to do their marketing. The deals are not being pre-announced.
Some of the products look like stocking stuffers, not real cool gear you want.
The limited quantities of 20 per store and 100-200 per online store frustrate a lot of people. It's almost impossible to get the best price.
There is also a $25 Microsoft Store Coupon with some purchases.
Bookmark the link to the Microsoft 12 Days of Deals. Shop 12 Days of Deals at Microsoft! New limited quantity door buster deal each day at 7 AM PST. Available while supplies last.