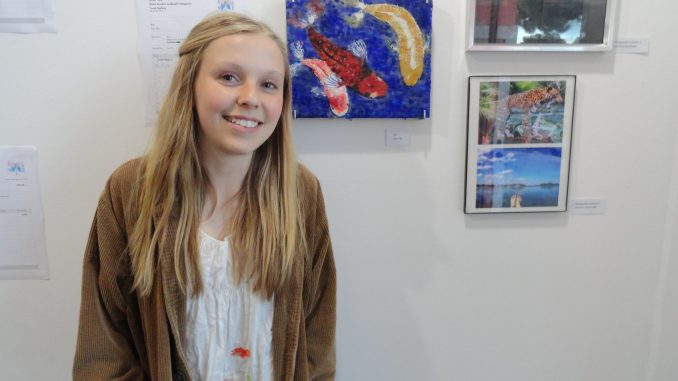 Artists are consistently asked to donate their art for good causes. When photographers Nick Busco and Scott Tansey were asked by Trunk Gallery, they jumped at the chance to help out a local Los Angeles organization. Oakgrove is a student run organization and retreat program based out of Venice High School. The students often stop into the Gallery, which is close to the school.
They were looking for ways to raise funds for their scholarship program, which helps local teens. It seemed like a perfect match. Gallery owner Ann Perich admitted she enjoyed having the teens stop by and was thrilled by the idea of the benefit and silent auction.
She explains, "They like to see how the artwork changes from exhibition to exhibition. Sometimes the gallery appears very differently, especially with the facade changing, and it always piques their interest."
Students Micky Greenfield and Erin Fitz were in charge of the auction, which included work from students as well as community artists with 100% of the proceeds from the artwork donated to them, to benefit Oakgrove.
Nick Busco started taking photos when he was given a Kodak brownie box camera at just ten years old. He soon became fascinated with photography and continued to learn and experiment all the way through college.
While at Emerson College, he spent late nights in a dark room where he developed black and white photos. He explains, "I read books about photography and tried the techniques I learned from those books." His college roommate ran a ticket agency for concerts, allowing him free access to many of the most sought after shows. He recalls, "I learned so much just by shooting rock concerts. I ended up working for a rock and roll lighting company in Somerville, Mass. – Tom Field Associates."
Next thing he knew, he was on the road as part of Rod Stewart's road crew. This is when he started to focus on shooting photos of music legends. Next, he moved on to lighting and eventually became a lighting designer for the likes of Bonnie Raitt, the Clarke/Duke Project, and a few more acts. Nick's work can currently be seen at Mouche Gallery in Beverly Hills. http://www.mouchegallery.com
Scott Tansey has been taking photographs since he was 16. He explains, "I received my first SLR for my 20th birthday, and I have been seriously taking images ever since. I had a couple of photo exhibitions in the mid-Seventies, one in Northern California and one in Southern California."
During this time, Tansey continued working in his family business. The business enabled him to travel around the world while selling aircraft parts.
He continues, "In 1977 I saw an ad for a Linhof Technorama. It touched something deep inside, and I had to scrape money together to purchase one. Panoramic photography combined a normal or telephoto perspective with a wide-view."
Tansey is happy to be a part the Trunk exhibition and auction. The work of Scott Tansey is currently on view at Figtree´s Café, located at 429 Ocean Front Walk in Venice. http://www.scotttanseyphoto.com/
Perich said, "The show provided good exposure to the artists that donate works (students and community artists), it will introduce Oakgrove and what it stands for to those who enter the gallery, and last but not least, for those who place winning bids they will be taking home a piece of art with the satisfaction that they have donated to an organization helping Venice High students."
The Oakgrove closing event will take place on April 26th from 6-9pm at Trunk Gallery, 12818 Venice Blvd, 90066. http://trunkgallery.org www.veniceoakgrove.org