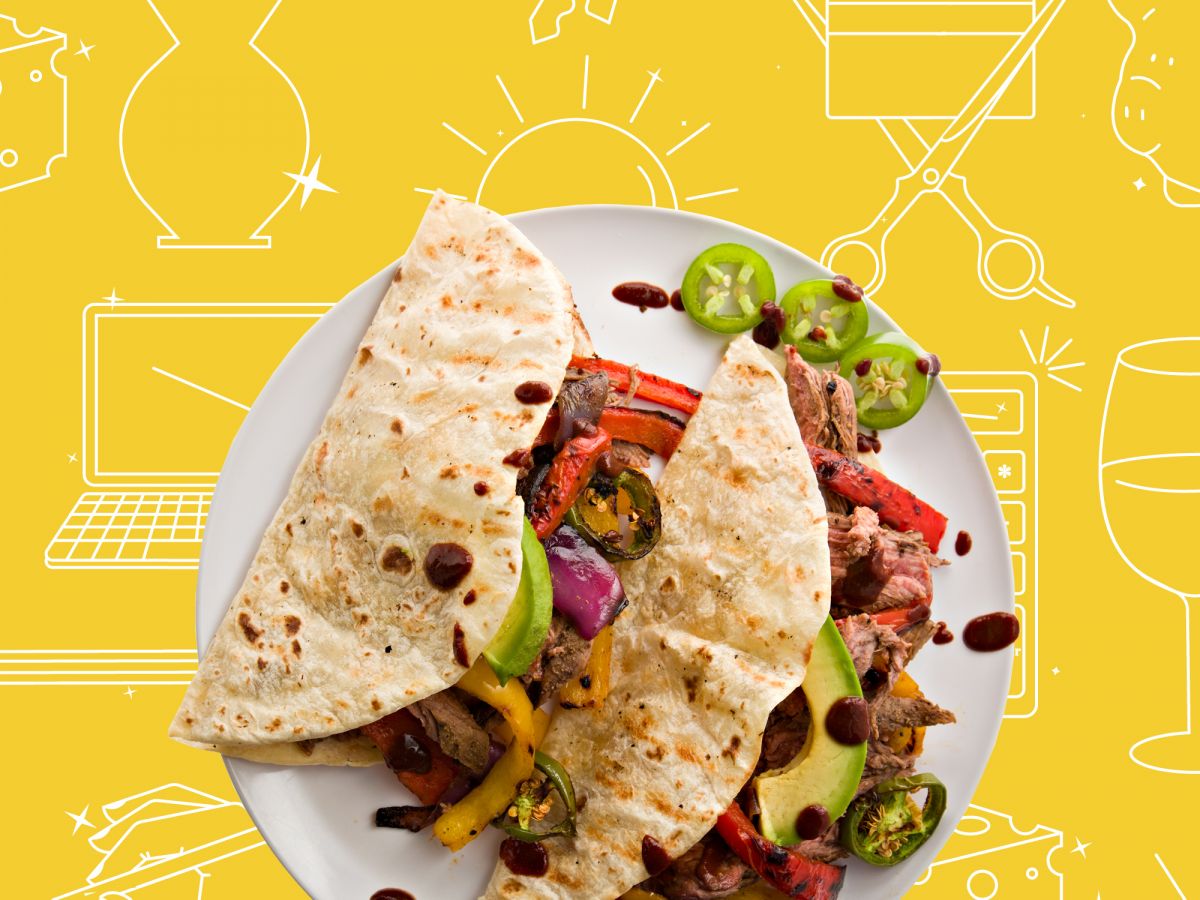 Welcome toMoney Diaries , where we're tackling what might be the last taboo facing modern working women: money. We're asking millennials how they spend their hard-earned money during a seven-day period — and we're tracking every last dollar.
Today: a marketing coordinator working in real estate who makes $57,500 per year and spends some of her money this week on steak tacos.
Occupation: Marketing Coordinator
Industry: Real Estate
Age: 30
Location: Oxnard, CA
Salary: $57,500
Paycheck Amount (Biweekly): $1,518
Monthly Expenses
Rent: $500 (I live at home and pay my parents. They're pretty traditional, so me moving out isn't something they would be thrilled by, even though I'm 30.)
Student Loan Payment: $0 (I was really lucky and received a lot of state grants, so I don't have any student loans.)
Health Insurance: $72.81
Car Payment: $515
Car Insurance: $133
Netflix: $9.99
Apple Music: $14.99 (I split this with my sister.)
Gym Membership: $19.99
Day One
5:30 a.m. — My iPhone snoozes in eight minute increments, and I manage to hit snooze three times before actually pulling myself out of bed. I usually try to be out of the door by 6:40 a.m., since my commute can be unpredictable, but today I have an extra lazy morning and leave at 6:55.
7:45 a.m. — Make it into my office in under an hour! I have unsweetened green tea while I fix up the Greek yogurt and berries I brought from home, and then drink my morning shake. I go through my emails and start my weekly to-do list.
10:30 a.m. — I open an email from a company I've been in contact with about a possible job opportunity — but it's a no-go. I feel frustrated that my job search has yielded zero results. Then I chat with an agent in my office about the World Cup and how well Mexico has been playing, which makes me feel slightly better.
12:30 p.m. — I head to our kitchen area and fix my lettuce sandwich wraps. I text my boyfriend, H., to let him know about the job opportunity falling through, and he is really supportive. I take a walk to a coffee shop up the road for an afternoon pick-me-up ($3.56). I have a gift card someone in my office gave me for my birthday, so I use it to pay.
4:30 p.m. — My brain is all designed out for today. I spend what is left of my work day reviewing and checking things off my to-do list and making sure I'm not missing anything for my weekly Tuesday meeting. I change for the gym and head out of the office shortly after to meet H.
7 p.m. — H. and I wrap up our gym session and grab protein shakes at the gym juice bar. Usually we trade off paying, and today is my turn ($10). I need a new gym bag, so we drive over to Marshalls and pick up a new one ($16.15). $26.15
9:05 p.m. — I shower, watch Million Dollar Listing New York, and call it a night.
Daily Total: $26.15
Day Two
5:30 a.m. — Snooze my alarm twice — I'm improving! I lay in bed for a few minutes and think about the fact that my job no longer fulfills me, which is why getting out of bed in the morning is so difficult. I get ready for work and remember that H. and I have plans to go the a Dodgers game tonight, and suddenly I am excited because it's bobblehead night!
7:50 a.m. — I get to the office and have my peanut butter toast and morning berry shake before my weekly offsite meeting.
10:15 a.m. — I get back to the office. The game is quickly selling out and waiting last minute for tickets might not be the smartest idea, so I text H. suggesting we buy the tickets now. I pay. $68.62
1:15 p.m. — I grab a quick lunch with my coworker. I didn't bring anything from home, so I get a steak taco at a place nearby. $3.53
2:30 p.m. — I wrap up my work and head out of the office early today because it'll take a few hours to get to the game and we still need to stop by and pick up the tickets.
3:45 p.m. — On the road a little later than I had hoped for.
6:40 p.m. — We're finally here! H. pays for parking since we drove my car and I paid for gas. I'm so excited because we're early enough to get a bobblehead of one of my favorite players when we enter the stadium (a.k.a. really the only reason we came to a game on a weekday!). We grab hot dogs and beer before heading to our seats. H. pays since I charged the tickets on my card. Not the greatest seats, but it's a sold out game. Bummer — the Dodgers lose!
11:45 p.m. — Finally home. Time for bed!
Daily Total: $72.15
Day Three
5 a.m. — I feel like I just fell asleep! Up late last night and up early this morning, but so worth it because I want to make it into the office early enough to catch the first half of the Mexico vs. Sweden World Cup game.
6:05 a.m. — I finally head out and stop by for gas — but I don't fill up my tank entirely because this is one of the most expensive gas stations in town ($32). Then I load up my Coffee Bean app with $10 for a quick stop. $42
7:10 a.m. — Pull into the parking lot at work and watch the first half of the soccer game. I have a staff meeting in about 50 minutes, so I'm hoping to at least watch the first half. I'm not a huge soccer fan, but I get really into it when it's an important game. I get a text from my sister during the meeting that Mexico lost.
10:45 a.m. — Back in my office after a productive staff meeting.
12:30 p.m. — I didn't bring lunch, so I get a grilled steak taco again, since it's one of the least expensive options around here ($3.53). I feel really tired from my late night and early morning, so my coworker and I walk to the local coffee shop after lunch and I get an ice blend with my birthday gift card. $3.53
2:10 p.m. — I text H. to ask him if we're meeting at the gym or at my house. On the nights he has his son, we meet at the gym, as it keeps their routine a bit more consistent, but tonight we're meeting at my place. Driving to the gym together helps with parking and it's really convenient if we need to run errands after our gym session.
7:45 p.m. — We finish our gym session and head to Chipotle, where we each get a bowl and a water and chips and guac to share. I pay, since he paid more at the baseball game ($19.99). We try to be fairly even when we pay for things. I joke with him that if we get married the first thing we're doing is joining our accounts, since splitting expenses gets confusing. Not to mention that we always feel like the other person is paying for more. We head over to Target because I need deodorant and face wash. ($13.54). $33.53
10 p.m. — Finally home and ready for bed!
Daily Total: $79.06
Day Four
5:30 a.m. — I actually wake up feeling rested. Weird. I get up and do my usual morning routine — face wash, hair, and a little makeup, and am out of the door by 6:40 a.m.
7:50 a.m. — It takes over an hour to get to the office. Once I do, I have Greek yogurt, strawberries, and granola with my berry breakfast smoothie while I tackle my emails.
11:30 a.m. — My mom shoots me a text to let me know I received a package in the mail — an order from ColourPop! I'm really excited. I've never really been into makeup, but recently I have started getting more into it.
12:30 p.m. — I walk next door for a steak taco again ($3.53). I really need to get to the grocery store and bring lunch in, because budget and, well, because I am getting tired of steak tacos. I used to be really bad about bringing in lunch, and then realized how much money I was spending a week. It was not cheap! I have lunch with my coworker whose wedding H. and I went to recently. We end up talking about her wedding and how perfect it was, which then segues into when H. and I will get married, since according to a few people, we are the most "married" unmarried couple they know. $3.53
6:45 p.m. — H. and I end up bailing on the gym and take my dog for a walk around the neighborhood instead. My mom made salmon, veggies, and white rice for dinner, so we stay and have dinner with my family, since it all smells so amazing.
8:30 p.m. — H. takes me for ice cream. He pays.
9:50 p.m. — H. drops me off and heads home. I take a quick shower and then get into bed. I scroll through Instagram, check job boards, and email myself possible job opportunities. H. and I had a conversation tonight about how I need to focus on my job search, as a lot of my anxiety and frustration comes from how unhappy I am at my current job.
Daily Total: $3.53
Day Five
5:30 a.m. — No snoozing, it's FRIDAY! I get out of bed, tidy up my room, get ready for work, and grab a few items from the kitchen for lunch. This morning I leave my house a little later than usual because I take a few minutes to play with my nieces first. I constantly hear how I don't spend enough time with them. Ever since I started dating H. about two and a half years ago, I am hardly home during my free time, so I try my best to give them cuddles when I can.
7:50 a.m. — I get to work and have my yogurt, berries, and morning shake. Then I get an email from our office manager saying she'll be out today, which makes me slightly relieved.
12:30 p.m. — Lunchtime! I get my sandwich and crackers and head to lunch with my coworker in our assistant manager's office.
3 p.m. — I am busier than usual for a Friday, yet the the day still seems to be moving rather slowly. H. texts me to see how my day is going and to remind me that we're going to visit his parents tonight. My coworker and I decide we need a coffee break, and I grab an ice blend at the coffee shop, which I again pay for with my birthday gift card.
7 p.m. — H. and I have dinner at his parents' house and spend time catching up with them.
9 p.m. — We leave his parents' house and head over to his place, where we cuddle up on his couch and watch 90 Day Fiancé. (H. is not thrilled by this show.)
12:05 a.m. — We fell asleep mid-episode, and when we wake up, H. takes me home. Ahhhh, sleep.
Daily Total: $0
Day Six
7:30 a.m. — I wake up, clean my room, and get changed. I want to make it to Target right when they open. We're going to a concert tonight and I want to find something to wear.
8:45 a.m. — I really enjoy solo Target trips. I find a cute bolero-type jacket that I think would work great with an outfit for tonight. I text H. while I'm still at the store and ask him if he's up for bacon egg sandwiches at his place this morning. He says yes, and I pick up cheddar, as sometimes I know what's in his fridge better than he does. I check out at Target ($31.52) and head over. $31.52
10:20 a.m. — I get to H.'s condo, and he seems extra happy to see me since I picked up some Starbucks for us on my way ($8.40). I lay on the couch for a bit while he does laundry. Then I stop being lazy and start making us some breakfast. He isn't big on cooking, but luckily I don't mind it too much, even if though I'm not the greatest at it. We joke around while I cook, and I like to remind him that certain little things about his place are impediments to us ever living together…like really disorganized cabinets. He knows I'm kidding, but plays along by saying that I can organize them any way I want. He might not actually be playing. $8.40
11 a.m. — We have our breakfast sandwiches while watching the Uruguay game. Then I paint my nails.
1 p.m. — The game ends — and Uruguay wins! I head home to start getting ready. The concert is in Hollywood, so we're leaving around 3 p.m. to meet my family at about 5. Gotta love that L.A. traffic.
6 p.m. — The event is great — it's a tribute to the late Juan Gabriel and a celebration of Mexican culture. It's at an outside venue, and you can set up a picnic before the actual concert, which is a great time to mingle, drink, and have a bite to eat. Parking is a bit of a hassle and costs $7, but my mom pays. We meet up with a few family members, and we all bring different items to snack on. Our contribution is three bottles of wine and fruit to go with the other components of a charcuterie spread that my cousins bring.
8:30 p.m. — It's intermission, so I rush to the bathroom after having three glasses of wine.
10:30 p.m. — Event is over and I am feeling a quite a bit drunk. H. drives us home, since my sister and mom had a few glasses of wine as well. I think the car ride is making me quite dizzy.
12 a.m. — H. drops us off and heads home. He texts me goodnight to let me know he has gotten home and I fall asleep instantly.
Daily Total: $39.92
Day Seven
5:30 a.m. — My mom walks in to remind me I'm supposed to go to the airport with H. to pick up his parents, but I call him and tell him I won't be able to go with him… I feel horrible, as in, actually sick. As I feared, I had one too many glasses of wine.
7:30 a.m. — H. texts me that he is on his way back from LAX. I get up to grab Gatorade and Advil and head back to bed.
12:10 p.m. — I'm up! Finally! I still don't feel all that great, but I get out of bed and take a shower. I tidy up my room and H. calls to ask if I want to go get something to eat. Food doesn't sound amazing right now, but we both agree it would be good for me to have something.
1 p.m. — H. picks me up and we head over to pick up his son. We decide on a Mexican seafood restaurant — a cold shrimp cocktail sounds great! H. and I have shrimp cocktails and his son has bacon-wrapped shrimp. I mention to H. that I could really go for lemon ice cream, and his son seconds the motion. The check comes and H. pays.
3 p.m. — We head over to grab ice cream. I get lemon, H. has a watermelon popsicle, and his son has an Oreo popsicle. I pay ($7.81). Then we head to H.'s house to hang out and his son convinces us to go swimming. $7.81
4:30 p.m. — I fall asleep again. I wake up to a phone call from my dad to check in on me, and poke fun — always a little fun to make fun of hungover people, right? Once I'm off the phone, H. and I agree that I will meet him and his son at the pool after I nap a little longer.
6 p.m. — I head to the pool and put on some sunscreen. H.'s son asks me to get in to the pool, but I don't think I'm up for it today, so I just go and put my feet in. Boys being boys, they obviously start splashing water my way.
7:30 p.m. — We get out of the pool and H.'s son asks if we can go to McDonald's, which for some reason sounds like the best dinner option EVER. We head out, H. stops for gas, and then we head to the McDonald's drive-through. They get chicken sandwiches and I grab a burger, plus we all get fries, which are delicious! H. pays $18, and I Venmo him since I am trying to keep things fair. He pokes fun at the fact that I Venmo him $9. $9
9:30 p.m. — Finally home. I take a quick shower, do my face wash routine, and get into bed. Despite all I slept today, I am still fairly tired. I scroll through job boards, send a few jobs to myself, text H. goodnight, and call it a night!
Daily Total: $16.81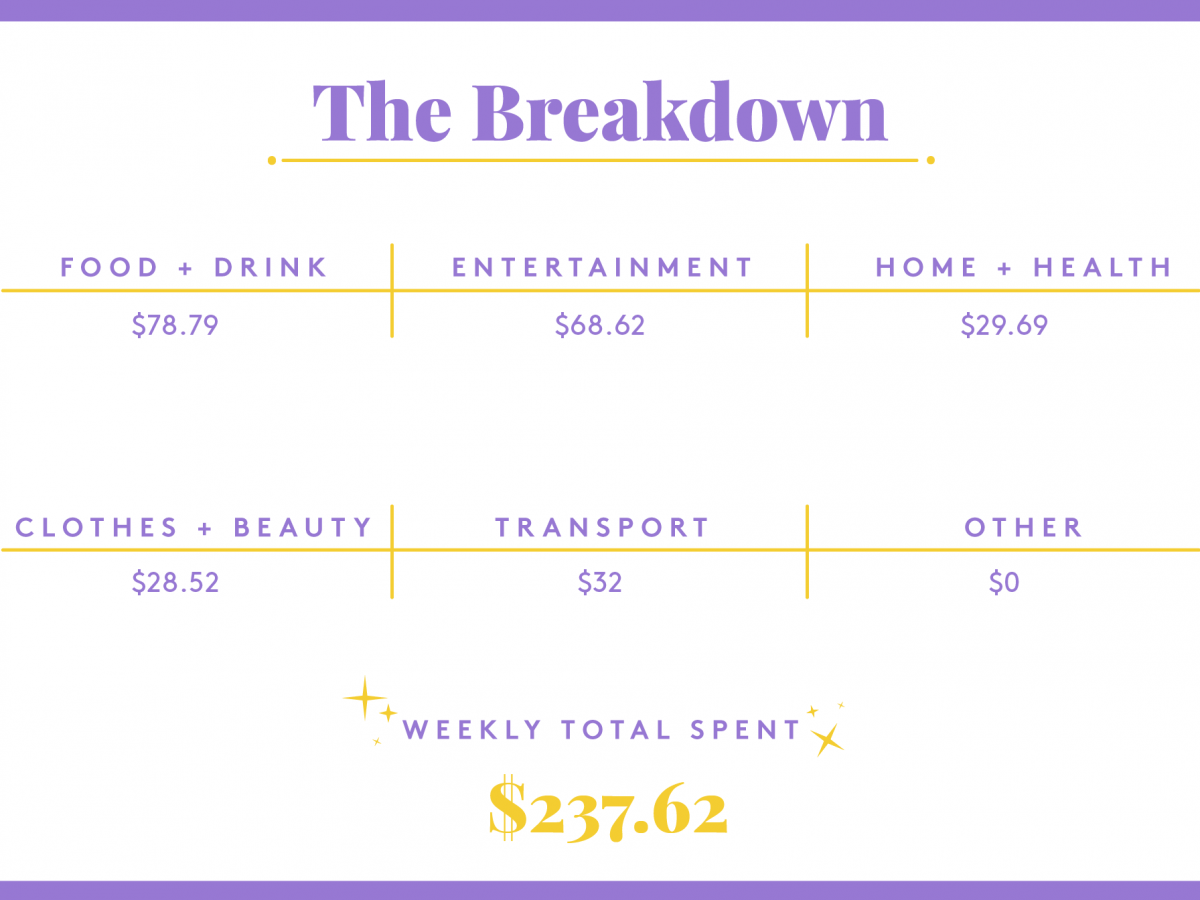 Click HERE to read more from Refinery29



Loading ...