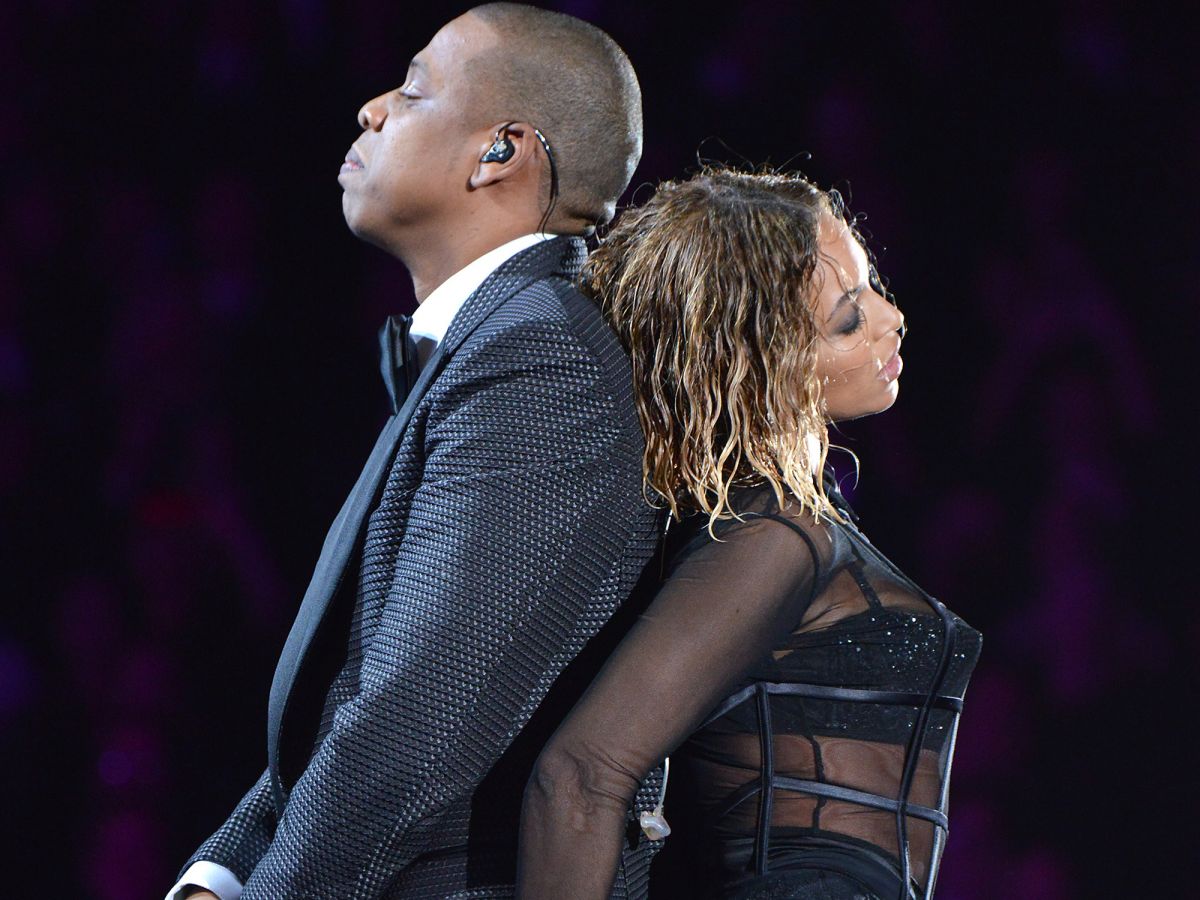 Everyone has that song that makes their blood rush, their face flush, and their pulse quicken. It's the jam you always have queued up when there's even the slightest chance of an overnight guest. It's baby-making, hypnotic hip-swiveling, take-me-now music.
And, there's a lot of it. Sometimes it's the lyrics that get us fired up. Sometimes it's the beat. Sometimes it's just Janet Jackson's voice or the fact that it makes you think of Ryan Gosling. By the second chorus, you're a quivering mess.
From "Drunk in Love" to "Closer," these tunes always seem to do the trick. We'll be adding more songs each week, so keep reading and keep updating that "sexy times" playlist. Don't act like you don't have one.
"In Your Eyes," Peter Gabriel
All this talk of "touching the light, the heat in your eyes" is so earnest. Earnestness to this degree can be sexy.
"Tender," Blur
When the singer sings, "Love's the greatest thing that we have / I'm waiting for that feeling," you have a feeling he's talking about a particular kind of loving.
"Peaches and Cream," 112
We all deserve someone who compares cunnilingus to peaches and cream.
"Baby, I Need Your Lovin'" by the Four Tops
Got to have all your loving.
"The Beach," The Neighbourhood
"I feel it burning me / I feel it burning you." This song is certain to make you feel the burn, too.
"Show You the Way," Thundercat feat. Michael McDonald & Kenny Loggins
"Show You the Way" gets its groove from the '70s, making it a very easy song to get down to.
"Hit of You" by Paloma Ford
Meet the perfect bedroom duet.
"Honey" by TRACE
A sparse, bare song that oozes longing in every piano chord.
"Valerie" by Mark Ronson and Amy Winehouse
If someone asked us to come over with these trumpets and this enthusiasm, we probably would.
"Hawk Fly Tiger Run" by Ofelia
A breathy voice, a strong bass, and innuendo masked in nature metaphors makes "Hawk Fly Tiger Run" the perfect sexy song for the hipster age.
"Love to Love You," Donna Summer
Slip into this 17-minute disco trance, complete with Donna Summer's moans and sensual whispers.
"Let's Stay Together," Al Green
What's sexier than a declaration of unending love, set to groovy beats?
"That's What I Like," Bruno Mars
Look, it's important to know what you like before embarking upon a relationship. Bruno Mars like silk sheets and sex by the fire.
"I Put a Spell On You," Annie Lennox
This is the best kind of witchcraft.
"I Wanna Be Adored," the Stone Roses
Dragging this amazing British band from the '80s from obscurity is going to take a lot of work. After listening to the epic "I Wanna Be Adored," you'll be part of the cause. Long, complex, and layered with interesting sonic layers, this song is good background music.
"Come and See Me," PARTYNEXTDOOR feat. Drake
We don't mind if we do.
"Take Me to Church," Hozier
With verses infused with longing and regret, "Take Me to Church's" booming choral climaxes are just like — well, you know.
"Kiss it Better" by Rihanna
In which Rihanna wants to stop fighting and start sexual healing.
"Rocket" by Beyoncé
Beyoncé can do sexual innuendo as well as Shakespeare.
"Touch My Body" by Mariah Carey
When Mariah says "touch my body," who wouldn't listen?
"When You're Smiling And Astride Me" by Father John Misty
Romantic as well as wildly sexual, if the title is any indication.
"Earned It" by the Weekend
What did we do to earn this song?
"You Sexy Thing" by Hot Chocolate
Not only the best sexy song, "You Sexy Thing" is simply the best song.
"Between the Sheets" by the Isley Brothers
Let this wildly earnest R&B carry you away to Pleasure Town.
"I Want You (She's So Heavy)" by The Beatles
The song repeats the same line over, and over, and over again — just like your brain does, when you're lusting after someone.
"Ignition (Remix)" by R. Kelly
Does R. Kelly compare his lover to a Lexus coupe? Yes. But is it undeniably catchy? Also yes.
"Kiss" by Prince
Exuberant and bursting with romantic delight.
"Sexx Laws" by Beck
In this funky song, Beck applies his intellectual, semi-nonsensical lyrical approach to sexual conventions. If the chorus is any proof, he sings, "I want to defy the logic of our sex laws / Let the handcuffs slip off your wrist."
"Light My Fire" by the Doors
Sexual innuendo was never so flaming hot. In a deadpan voice, Jim Morrison tries to convince his lover to "set the night on fire" with him. We imagine she didn't need much convincing.
"Lover, You Should Have Come Over" by Jeff Buckley
Buckley's breathy, heartsick voice cracks as he talks about the one who got away. This trembling song about desire starts slow and soft, and then, quite literally, climaxes. It might be too late for Jeff, but it's not for you.
"Sexual Healing," Marvin Gaye
As if this song about the medicinal properties of intercourse needed an introduction.
"Pyramids" by Frank Ocean
At ten minutes long, this epic jam will carry you away on the wings of Frank Ocean's sultry voice and Cleopatra references.
"Coffee" by Miguel
The PG-rated version of this song fills in the word "coffee" for a different word. Watch the video, and it won't be hard to guess what Miguel is really singing about in this song that practically oozes sex appeal.
"Wicked Game," Chris Isaak
This is the sexiest music video of all time, right? Helena Christensen romps on the beach, Chris Isaak gets emo, everybody melts.
"Sex (I'm A…)," Berlin
The new wave group that gave the world "Take My Breath Away" showed off their more X-rated side with this 1983 single. The song's sex-positive lyrics got it banned from many radio stations.
"Set Adrift on Memory Bliss," P.M. Dawn
Getting busy to the Spandau Ballet hit ("True") sampled here seems ridiculous. This 1991 hip-hop update, however, is just so heavenly and sensual that making out seems mandatory. Rest in peace, Prince Be.
"Can't Get You Out Of My Head," Kylie Minogue
While the lyrics could read a little Fatal Attraction -y, the hypnotic beat and Kylie's sultry vocals will probably have you "la la la, la la la la la"-ing all the way to the bedroom.
"Slave to Love," Bryan Ferry
This very well might have been the song your parents were listening to when they conceived you. Try not to let that ruin your listening experience.
"Crimson and Clover," Joan Jett and the Blackhearts
Tommy James and the Shondells' 1968 original has been covered by the likes of Joan Jett and Prince, and one thing remains constant: These lyrics are not about plants.
"No Ordinary Love," Sade
Frankly, every Sade song feels like slipping into a bubble bath with your lover, a bottle of champagne chilling on the side.
"Pony," Ginuwine
Who knew equestrian events could be so thrilling?
"Sex on Fire," Kings of Leon
So long as your mind doesn't wander to possible STD symptoms, this rock anthem is particularly useful for ramping up a middle-of-the-dancefloor smooch sesh.
"Gimme Your Love," Morcheeba
Morcheeba should be on everyone's bedroom playlist.
"Midnight City," M83
This tune has soundtracked so many makeout sessions, it's a wonder there's not an entire generation of babies named M83 as a tribute.
"I'm On Fire," Bruce Springsteen
Bruce Springsteen has a "bad desire." What are you going to do about it?
"I Want Your Sex," George Michael
Subtlety is overrated. Raise your hand if you thought George was singing this to you.
"Damn I Wish I Was Your Lover," Sophie B. Hawkins
All you had to do was ask, Sophie. All you had to do was ask.
"Video Games," Lana Del Rey
The perfect song to switch on when that sexy skateboarder comes over to "Netflix and chill."
"Naughty Girl," Beyoncé
"I'm feelin' sexy…" This song turns even the biggest wallflower into Sasha Fierce when the DJ blasts it at the club.
"Fever," Peggy Lee
Though Peggy Lee is famed for this vampy classic, her version is actually a cover. The song was first recorded by R&B artist Little Willie John in 1956, two years before Lee got her smoky vocals on it.
"Oops (Oh My)," Tweet feat. Missy Elliott
Long before Twitter, Tweet was seducing us with this lyrical striptease. She's totally talking about masturbation, right?
"Paradise Circus," Massive Attack
Hope Sandoval of Mazzy Star contributes the drowsy vocals on this hypnotic track which, yes, also doubles as the theme tune for Luther.
"Any Time, Any Place," Janet Jackson
Which is sexier: the song, or the accompanying video, in which Ms. Jackson and her fine neighbor bone on the regular? Also, do you think he prefers chamomile, or Earl Grey?
"Nightcall," Kavinsky
The Drive soundtrack is basically a sex playlist of its own, but this synth-heavy track is the standout. Crank it up and burn rubber in the bedroom with the Ryan Gosling surrogate of your choice.
"6 Underground," Sneaker Pimps
Raise your hand if you spent the late-'90s making out with your sweetheart after school to this track featured in Can't Hardly Wait and The Saint. Raise your other hand if you thought it was called "Sex Underground."
"Christiansands," Tricky
Damn, that croak is
hot
. The trip-hop legend's 1996 single seduces with a combination of low warbling and a beat that practically begs you to take your clothes off.
"Untitled (How Does It Feel)," D'Angelo
You knew this was going to be on here, didn't you, you little minx? Hell, you could just play the video with the volume muted and still get turned on.
"Slow," Kylie Minogue
When you name your album Body Language, there had better be some sexy tracks involved. The OG Kylie delivered with this number, which finds her softly cooing the line, "Skip a beat and move with my body, yeah, slow."
"I Feel You," Depeche Mode
This tune's blazing guitar riff never fails, especially if you chase it with its 1993 B-side (Google it, kids), "One Caress." Lead me into your darkness, indeed.
"Need You Tonight," INXS
Pretty much everything Michael Hutchence sang was scorched with his innate sexiness. Between this and "Never Tear Us Apart," you'll never need porn again.
"Doin' It," LL Cool
This is why the ladies love cool James. You can thank Grace Jones (whose single "My Jamaican Guy" is sampled here) and collaborator LeShaun (who used the racy lyrics and sample as far back as the 1980s) for really getting this bedroom anthem underway, however.
"Je T'aime… Moi Non Plus," Jane Birkin & Serge Gainsbourg
Is that really the sound of Jane Birkin having an orgasm? What exactly is Serge saying? And how does this still manage to get us hot despite its recurrence in 3 million films and perfume ads?
"Sexy Boy," Air
Sexy boy, sexy song. Though you may still know this electronic track best for its inclusion in 10 Things I Hate About You(never forget), its pulsating beat and not-sure-what-they're-saying-but-it-sounds-hot French lyrics should give it an R-rating.
"Staring at the Sun," TV on the Radio
How can a song that's not actually about sex be so intoxicatingly erotic? Tunde Adebimpe's voice may have something to do with it.
"Closer," Nine Inch Nails
Trent Reznor announcing that he wants to "fuck you like an animal" may not be subtle, but it's effective. Who hasn't fantasized about doing it against a wall while this rock classic blares?
"Drunk in Love," Beyoncé ft. Jay Z
Pre- Lemonade, the Carters were getting hot and heavy over surfboards and Champagne on ice. Save this one for bae, not some random Bumble conquest.
"Ooh La La," Goldfrapp
Now that's some sexy synth. To be honest, Alison Goldfrapp could read our tax return aloud and we'd be aroused.
"I'm in Love," Kygo and James Vincent McMorrow
The perfect intersection of cheesy romance and sexy beats.
"I Feel it Coming," The Weeknd ft. Daft Punk
You feel what coming?
Click HERE to read more from Refinery29


Loading ...