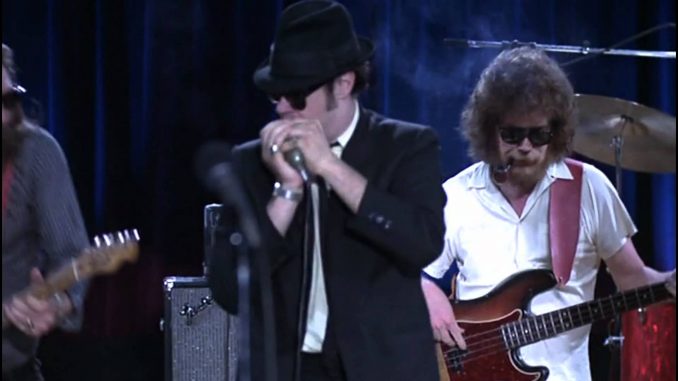 Famed member of Stax Records and Booker T & the MGs passes away
http://www.youtube.com/watch?v=mTRwRdf43Gc
Donald "Duck" Dunn playing bass behind The Blues Brothers, 'Everybody Needs Somebody'
Donald "Duck" Dunn one of R&B and rock and rolls best bassist died on May 13, 2012 in his sleep on tour in Japan. Donald "Duck" Dunn was well known in the music business and became famous as the bass player in the John Belushi – Dan" Aykroyd comedy and tribute to Stax R&B, The Blues Brothers.
The nickname came from watching Disney cartoons on television and his bass playing was self-taught which gave one of the unique and best bass lines in the business. His love for pipe smoking created the iconic image of a pipe smoking bass guitar player seemingly in his own world on the stage.
The Blues Brothers movie helped to revive the careers of many great soul and blues artists from the 1950s and 1960s. It also Belushi and Ackroyd a second career touring and performing with R&B greats.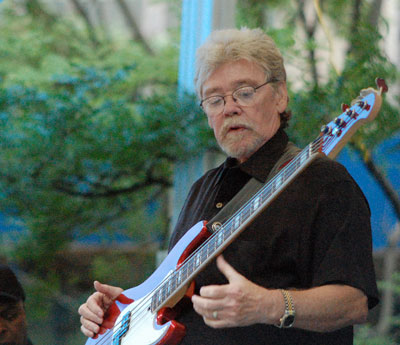 Since he didn't take lessons, Duck Dunn taught himself by listening to records and guessing what other bassists were doing.
He created a powerful and unique style that was emulated by many other bass players.
Duck Dunn was also a record producer, songwriter and session bassist at Stax Records the home of the blues in Memphis Tennessee.
http://www.youtube.com/watch?v=OH3r6HEeH3A
Donald "Duck" Dunn with Booker T and the MGs, "Green Onions"
Dunn was a boyhood friend of guitarist Steve Cropper and took up bass when he realized Cropper was a better lead guitarist. He joined the famous Booker T and the MGs in 1961 and replaced their bassist on Green Onions 3 years later in 1964.
http://www.youtube.com/watch?v=2UdUNQ1S1RE
Wilson Pickett and Blues Brothers Band, with Donald "Duck" Dunn, "Midnight Hour"
Booker T had a few hits but most of their work was as the house band at Stax where they created hit like "Sitting on the Dock of the Bay" with Otis Redding, "Soul Man" with Sam and Dave and Albert King's "Born Under a Bad Sign."
The Stax "Memphis Soul" sound was the sound of the deep south and the best rhythm section in the 60s and 70s. It was solid and it was deep and included a strong horn section.
Stax was a unique blend of black and white music that went out of popularity after the assassination of Dr. Martin Luther King Jr. Black musicians and the market lost interest in integrated music and went on to create funk and other music that didn't need white musicians.
http://www.youtube.com/watch?v=aB0NaihvZek
Donald "Duck" Dunn and Steve Cropper backing Eric Clapton performing Bob Dylan's "Love Minus Zero", "Bob Dylan 30th Anniversary Concert"
Cropper left Stax in 1970 and went solo and backed other artists. Duck Dunn stayed to the bitter end. Stax itself fell on hard times with the change in market and went bankrupt in 1975.
In 1975 Cropper reformed Booker T & the MGs out in Los Angeles uniting with his old school buddy Duck Dunn. Three years later the Blues Brothers was released and Duck Dunn enjoyed work playing with the Blues Brothers band, touring and backing other musicians.
He appeared in the movie "Blues Brothers 2000″ playing himself again, pipe and all.
During his career he had played on recordings or backed some of the greatest names in blues and rock and roll including Bob Dylan, Otis Redding, Sam and Dave, John Lennon, Eric Clapton, Rodd Stewart, Muddy Waters, Freddie King, Jerry Lee Lewis, Stevie Nicks, Tom Petty, Neil Young, Wilson Pickett, Creedance Clearwater Revival and Levon Helm.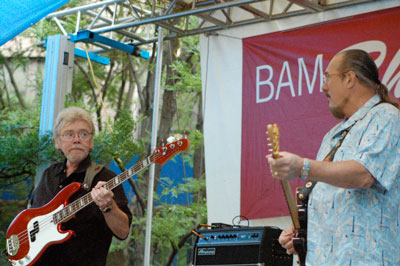 He died in his sleep in a hotel in Tokyo after a performance.
Steve Cropper posted his message on his Facebook page
""Today I lost my best friend, the World has lost the best guy and bass player to ever live.
Duck Dunn died in his sleep Sunday morning May 13 in Tokyo Japan after finishing 2 shows at the Blue Note Night Club."
Donald "Duck" Dunn was a member of the Rock and Roll Hall of Fame, as a member of Booker T and the MGs.
Photo credits : Ken Ficara, Flickr Creative Commons some rights reserved
Sources – Wikipedia and my memory of some of the best music ever made.
By Stephen Pate, NJN Network