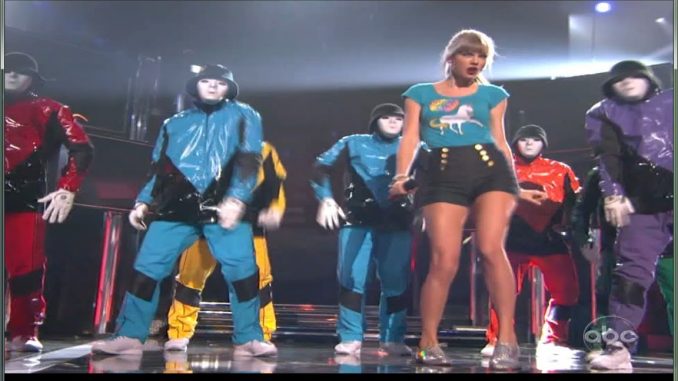 Taylor Swift cleaned up at the 2013 Billboard Music Awards. The biggest winner was the internet as music lovers grew digital sales 10% and CD's declined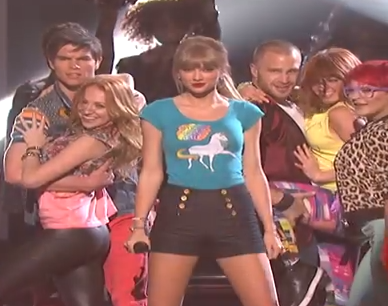 Taylor Swift swept the 2013 Billboard Awards in Los Vegas with 8 awards, including top artist and top album. Other winners include Justin Bieber, Gotye and Rihanna.
Swift has totally crossed over winning Top Country and Top Artist in the same year.
"You are the longest and best relationship I ever had," said Swift whose songs chronicle the ups and downs of her personal relationships.
Her performance of "Reds" started backstage with circus accoutrements including Swift being carried on a bicycle onto the stage.

"Reds" by Taylor Swift from the 2013 Billboard Awards
The Billboard Awards are based on sales and chart placement, the final test of who fans love when they put down money or watch songs on YouTube.

This year digital sales, views and downloads had a big impact showing the adoption of the digital music wave and its recognition by the industry. Carly Rae Jepsen, a Canadian artist, made more money from digital than CD sales in 2012.
"Consumer are clearly migrating to the web," said Billboard" "as digital album sales jumped 10.4% to 32.5 million units from 29.4 million copies; and online CD sales increased 2.3% to 8.4 million units from 8.1 million units."
Canadian artist Justin Bieber won 3 awards and performed "Take You" with will.i.am.
Addressing the nasty booing he received earlier this year, Bieber told the audience, "I'm 19 years old; I think I'm doing a pretty good job. And basically from my heart I really just want to say it should really be about the music, it should be about the craft that I'm making. This is not a gimmick. "I'm an artist and I should be taken seriously and all this other bull should not be spoken." Tell it like it is Bieber!

"Take You" Justin Bieber and will.i.am from the 2013 Billboard Awards
Many awesome artists like Bruno Mars were shut out of winning any awards. Bruno Mars did lead off the show with a big production of "Treasure".
And the Winners are
Taylor Swift – Top Artist, Female Artist, Billboard 200 Artist, Digital Songs Artist (tie with Carly Rae Jepsen), 200 Billboard Album "Reds", Country Artist, Country Album, Country Song "We Are Never Ever Getting Back Together"
Justin Bieber – Male Artist, Social Artist
Carly Rae Jepsen – Digital Songs Artist (tie with Taylor Swift), Digital Song and Pop Song "Call Me Maybe"
Goyte – Hot 100 Song, Radio Song featuring Kimbra, "Somebody That I Used to Know", Streaming Song (Audio), Rock Song
One Direction – New Artist, Duo/Group, Pop Artist
Maroon 5 – Hot 100 Artist
Rihanna – Radio Songs Artist, R&B Artist, R&B Album "Unapologetic", R&B Song "Diamonds"
Madonna – Touring Artist, Dance Artist, Dance Album "MDNA"
Nicki Minaj – Streaming Artist, Rap Artist, Rap Album "Pink Friday: Roman Reloaded"
Adele – "21&Prime Pop Album
Mumford & Sons – Babel "Rock Album"
fun. – Rock Artist
Jenni Rivera – Latin Artist, Latin Album "La Misma Gran Senora"
David Guetta – EDM Artist
tobyMac – Christian Artist, Christian Album "Eye On It"
Skrillex – EDM Album "Bangarang"
PSY – Streaming Song (Video)"Gangnam Style"
Macklemore Ryan Lewis featuring Wanz – Top Rap Song "Thrift Shop"
Michel Telo – Latin Song "Ai Se Eu Te Pego"
Baauer – Dance Song "Harlem Shake", EDM Song
Matt Redman – Christian Song "10,000 Reasons (Bless the Lord)"
For more about the 2013 Billboard Awards including interviews, backstage videos and performances, check out their site or YouTube.