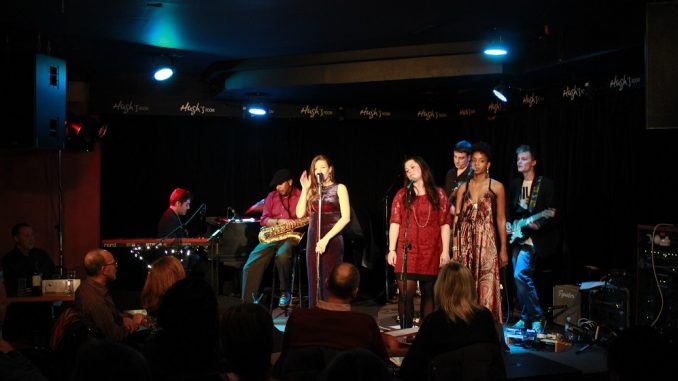 Toronto soul singer Andria Simone reasoned that December 30th in Toronto is New Year's Eve somewhere else in the world. So Simone threw an "IT'S NEW YEAR'S EVE … SOMEWHERE" party at Hugh's Room on December 30th and there was no doubt her legion of fans agreed with Simone as there was standing room only.
The audience ranged from downtown eighteen year old hipsters, suburban soccer moms to silver haired retirees from North Toronto. The latter two demographics probably heard Andria Simone on her well received appearance in early December 2013 on the Sound of the Season fundraiser for the Daily Bread Food Bank which was broadcast live on CBC Radio or saw her on CTV's Canada A.M.
Simone has been compared to other soul singers like Alicia Keys, Amy Winehouse and Adele but Simone made it clear that she was most influenced by the legendary Etta James to whom she paid tribute by singing James's hit song 'Summer Time'.
In a gesture of tribute to two other soul/jazz/pop legends, Simone also covered hit tunes by Tine Turner and Stevie Wonder which was appreciated by the entire audience irrespective of their age.
It was clear that Simone's band 'Those Guys' which included George Nikolov, Anthony Brancati, Mark Wilson, and Dave Kirby truly enjoyed working with Simone as did the back-up singers Chloe Creavalle and Tasha Potter.
Simone covered several songs from her recently released CD 'Good Lovin' including the title song 'Good Lovin', 'Do What I Want', 'Shame' and 'Only A Thought'. Simone dedicated her composition 'Proud Of Me' to her mother who was in the audience.
Either because the mixing board, the playback speakers, or both were malfunctioning, Simone's voice was at times quite jarring as she was shouting into the mike.
Despite this obvious technical problem Andria Simone is certainly an artist we will be hearing from a lot more and for who the world is her oyster.