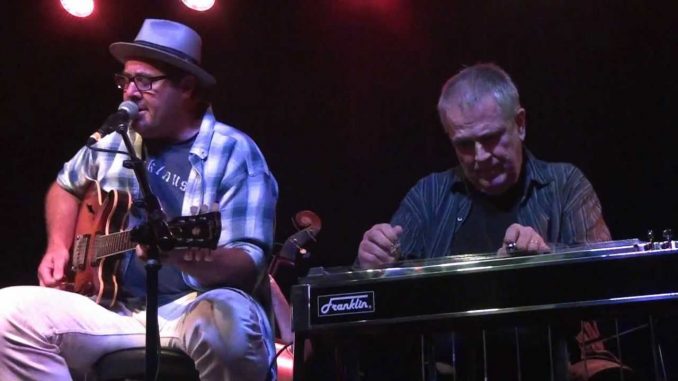 This article was last updated on May 27, 2022
Canada:

Oye! Times readers Get FREE $30 to spend on Amazon, Walmart…
USA:

Oye! Times readers Get FREE $30 to spend on Amazon, Walmart…

Country buddies Vince Gill and Paul Franklin pay tribute to Buck Owens and Merle Haggard
By Stephen Pate – I'm partial to the 50's twang of Bakersfield honky-tonk. Merle Haggard and Buck Owens created that working-class country sound in the bars of Bakersfield, California the town that gave the sound a name.
I was listening to the sweet sound of Vince Gill's tenor singing "Go Rest High On That Mountain" when I came across his CD Bakersfield. It's the sweetest honk- tonk album since Dwight Yoakam mined the vein in the late 80s and early 90's.
In 10 songs, Vince Gill and Paul Franklin pay tribute to those great Bakersfield songs, sounds and artists. 5 songs from Buck Owens and 5 from Merle Haggard in a walk down memory lane that plays honest with the past without being note-for-note.
In an interview with Radio.com, Gill said the album came out of their regular Monday night gig at Nashville's 3rd and Lindsley which is probably why the album sounds so well oiled.
"We were sitting there together every Monday night, playing all of the great songs that we love to play," Gill explained to Radio.com, "and every now and then I get my belly full of swing music and I'd say, Hey, let's play 'Together Again' or let's play 'Holding Things Together,' both Buck Owens and Merle Haggard songs, and the crowd would go crazy. I told Paul, 'There's something here. Maybe we can find a way to do something to honor those guys.'" Radio.com
Dwight Yoakam was the bad-boy honky-tonk artist back in the 90's. Vince Gill's voice is so pure he nails the sadness in each song. Besides Vince Gill is so danged self effacing it's impossible not to like him where he sings or plays.
Paul Franklin is one a top-ranking pedal steel guitar player who has won numerous AMA awards and played on over 500 albums.
This clip from 3rd and Lindsley in 2012 was a year before the CD was recorded at Vince Gill's home studio. It gives you an idea of the sound, although the album is stronger.
I just love this CD. It feels like Saturday night and we're down at the bar, dancing to those great songs. Are you lonesome? Did you girl or guy leave you for someone new well these songs are for feeling that pain while having a good time. No wonder people like country music.
The rhythm section of Greg Morrow on drums, Willie Weeks and Brad Albin on bass hold things together. Vince Gill plays lead and rhythm guitar backed by JT Corenflos on rhythm guitar, John Hobbs on piano. The Time Jumpers – Kenny Sears, Larry Franklin, Joe Spivey, fiddles – fill out the sound.
The Bakersfield sound is Telecaster guitars, steel guitars played off against fiddles in a country dance beat. It owes just as much to rock and roll as it does to country with those guitar lead licks.
The style lay dormant through most of the 70s' and 80's until Dwight Yoakam made a hit of his duet with Buck Owens on "The Streets of Bakersfield."
Merle Haggard was one of the pioneers of the Bakersfield sound. His early hits were due in part to the singing of Bonnie Owens, Buck Owen's former wife.
And if you get a hankering for a bit of the old songs, try the 2-CD set from Rhino The Very Best Of Buck Owens, Vol.1 and The Very Best Of Buck Owens, Vol.2. In Canada Amazon.ca, the UK Amazon.co.uk, and Germany Amazon.de.
By Stephen Pate, NJN Network
You can publish this article on your website as long as you provide a link back to this page.