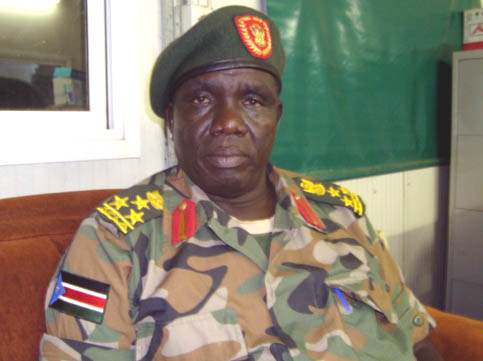 This article was last updated on April 16, 2022
Canada:

Oye! Times readers Get FREE $30 to spend on Amazon, Walmart…
USA:

Oye! Times readers Get FREE $30 to spend on Amazon, Walmart…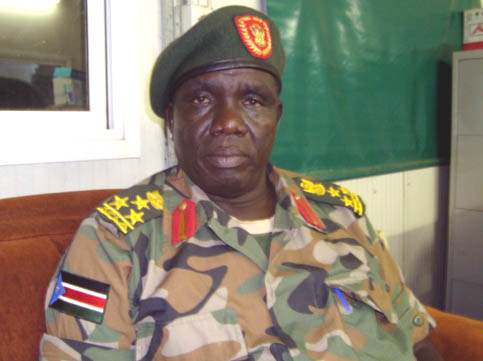 Amnesty offered by the Government of Southern Sudan President Salva Kiir to South Sudanese stronghold militia leader Major General Gabriel Gatwech Chan, popularly known as Gabriel Tanginya turned into a dreadful confrontation over the weekend.
According to Brigadier Gen Malaak Ayuen Ajok, the SPLA Director of Information who read statement yesterday to the media, the Sudan People's Liberation Army, SPLA has confirmed that the Major General Gabriel Taginya, and about 2,000 officers and troops have surrendered to the SPLA forces at Canal site south of Malakal, capital town of the Upper Nile State.
Speaking following his arrival at canal site at about 5: pm on yesterday, General Tanginya expressed his disappointment with the fighting that he described as unintended, but came abruptly and suddenly due to a mistake from one of the soldiers who carelessly fired three rounds by mistake.
"We are already integrated into SPLA forces and are ready to implement the directives of the SPLA General Headquarters," said General Tanginya. He called on his forces to come out of their hiding and present themselves to any nearest SPLA garrison.
In the press statement read on Monday issued by the SPLA General Headquarters, the SPLA Chief of General Staff, General James Hoth Mai, welcomed what he termed as the correct decision taken by both Gabriel Taginya and his deputy Mabor Dhel to surrender and he assured them that the SPLA will not harm any soldier who surrenders.
According to Brigadier Gen Malaak Ayuen Ajok, 57 rebels were killed during the melee where militia groups believed to be loyal to Tanginya on Saturday attacked an SPLA base in Jonglei State resulting to mass killing and displacement.
Ayuen confirmed that 3 Generals were killed and several high ranking officers, adding that, a Major General and a number of Brigadier Generals were captured. However, he did not disclose as to how many SPLAs were killed in the course of the fight.
The clashes emerged in a time when the militias were in the process of completing their reintegration into the South Sudan's Army-SPLA in their designated Assembly area of Kaldak, in Jonglei State.
Last year, Kiir offered an amnesty to all South Sudanese rebel groups who broke away from the SPLA to return back to the Army. This occurred following the President's call for all South Sudanese political parties' conference in Juba.
Renegade Tanginya was the first to express acceptance to the President's call and agreed to return to the SPLA. Ayuen said then that, 5,000 Tanginya's militias were already reintegrated to SPLA in the last two weeks.
However, the Saturday's clash has appeared a nightmare to the amnesty offer especially ahead of the South Sudan's full independency to be recognized in July 2011.
Ayuen said that it was not immediately established as to why Tang's rebels launched an attack on SPLA even after the president's amnesty offer which he personally agreed.
However, General Ayuen clariefied that, SPLA believes Tang could have been in contact with the other rebel groups who didn't adhere to the offer.
Early this year in February, loyalists to Tanginya clashed with the Sudan Armed Forces, SAF following efforts to seize off military arms from the militia as they move to reintegrate with the South Sudan Army, SPLA. Hundreds of people were left killed in the melee besides displacement.
Tang's militias were used as Joint Integrated Unit-JIUs as part of the 2005 peace deal, the Comprehensive Peace Agreement, CPA.
The fresh attacks are part of several recent attacks between SPLA and several rebel groups in the region that tensed after the successful South Sudan's Referendum for secession held on 9th January this year.
Article viewed at: Oye! Times at www.oyetimes.com
You can publish this article on your website as long as you provide a link back to this page.