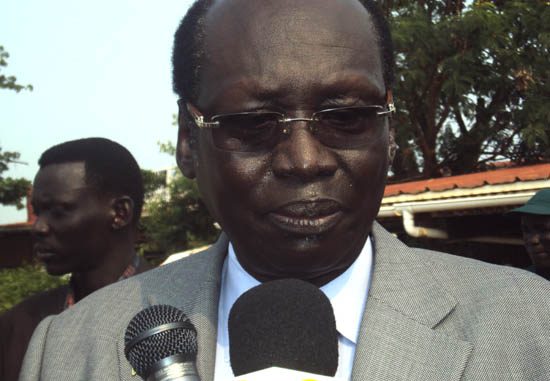 The Bank of South Sudan (BOSS) has been upgraded to Central Bank for the Republic of South Sudan. The GOSS Council of Ministers approved this move as the Information Minister Dr. Barnaba Marial briefed the media shortly after their Friday's routine meeting.
Dr. Barnaba disclosed to the press that with the Chairmanship of the GOSS President Salva Kiir Mayardit, the Council of Ministers' meeting recommended BOSS to be transformed into the Central Bank of South Sudan.
According to Marial, there were various bills passed such as taxation act, investment promotion, public management and accountability as presented by the GOSS Minister of Legal Affairs. The council also passed other important bills such as national flag, passport, and State seal.
The Information Minister also said that the Council resolved that all mobile operators companies in the region need to register their users' contacts.
Marial who is also the GOSS Spokesperson assured the entire public that the regions' security was being monitored; adding that all the security agents were alert in ensuring a successful Independence Day.
"There is maximum security and people should not fear in marking this momentous historical day for all South Sudanese and the world at large," Marial assured while addressing the press at the presidential premises.
"The celebrations will start on the 8th of July to the end of the main day; July 9th, 2011," he added.
"The African Union delegation, Arab League, European Union, United Nations, and the Inter-governmental Authority on Development, IGAD among others with the presence of Sudanese President Omar Al Bashir are expected to be present on the 9th of July," Marial confirmed.
Article viewed at: Oye! Times at www.oyetimes.com