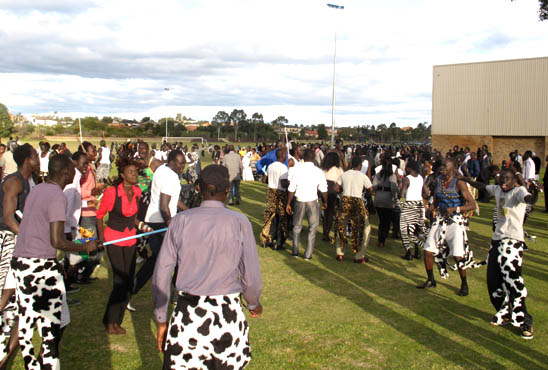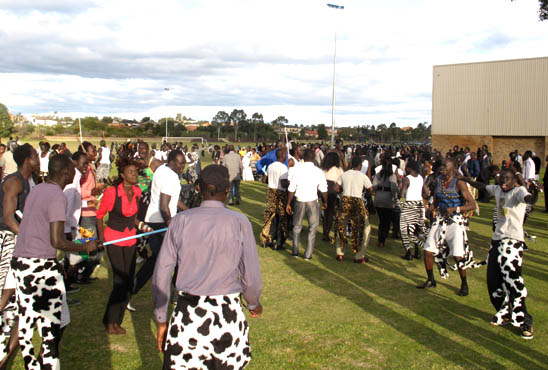 In Australia and in Perth, Western Australia in particular, tears of joy, mass euphoria and excitement capped with colourful dances and display of richly diverse cultures marked the celebrations welcoming the birth of the 54th country in Africa, the Republic of South Sudan, RoSS.
Southern Sudanese from all walks of life and their friends from sympathetic and friendly countries such as Ethiopia, Uganda, Kenya, Congo Democratic Republic, Burundi, Tanzania as well as fellow Australians converged on a massive community recreational park at Herb Graham and began to furiously dance their feet off in unique styles and fashions.
Symbolic traditional shields, spears and clubs, exotic and fascinating costumes and the flag of the new Republic in almost every hand left no doubt in the mind of any observer, that this was surely an unprecedented display of mass happiness marking a satisfactory outcome for the people of South Sudan, who have been struggling for more than half a century, to attain the very thing they are now finally celebrating for, an independent and sovereign Republic.
"Congratulations to us, Comrade Deng and our people everywhere, we have finally achieved what we have been immensely suffering for," said one veteran SPLA freedom fighter, Mijak Lem.
Mijak was not alone in reflecting on the suffering and sacrifices of our people, particularly the fallen heroes and heroines, all the martyrs who paid the ultimate price for our motherland.
In the words of Madam Awak Reec Gak, widow of the late Hon. Lawyer, Dhol Acuil Aleu, "we have been waiting for this day for two decades. We need to be peaceful, humble and respectful." Indeed, Madam Awak's sentiments is representative of many here, who believes that only humility, respect for others in our diverse South Sudan, equality and Justice for all; as well as equal distribution of national wealth and decentralisation of development can ensure everlasting peace and progress in the new Republic.
Meanwhile, people from other marginalised regions of Sudan, some of whom are long term allies of South Sudan who equally waged the war against Khartoum regimes on the side of the Sudan people Liberation Army, the people of Nuba Mountains, South Blue Nile, Eastern Sudan and Darfur regions joined the South Sudanese in their massive celebration to show their unwavering support and faith in the people of South Sudan, despite the uncertain future in which their people and regions are now left in following secession of the South.
Members of the Fur community here went a step further and donated nearly a thousand dollars toward the celebration of Independent South. Omar Adam told Gurtong that, "This is our collective happiness, we in Darfur stands shoulder to shoulder with our brothers and sisters in the South, in their celebrations for their new country which we also view as ours". Omar went on to empathise, "We donate this little amount of money to the community here as a token of our utmost joy and happiness for the people of South Sudan.
Dancers from different South Sudanese cultural groups and the sea of humanity that converged to witness the event started dancing and doing other activities to show their happiness, from 12:00PM to 12:00AM, a twelve hours rage of celebrations.
Australian mainstream media including the Australian Broadcasting Corporation were at the scene covering what was happening. A flag of the Republic of South Sudan was hoisted and the new national anthem sang amidst cheering, ululations and clapping. A squad of Lost Boys – Jiec Al Amer were fully dressed in military jungle camouflage, symbolising the SPLA troops, whose fierce struggle brought about this important day.
Madam Teresa Akuc Reec, Chairperson of the Dinka women support Group urged the youths to take up the challenge by studying hard and to close the technical or educational gap in the new country. So was Abraham Jok Mabok, a veteran of the two Armed Struggles for South Sudan Independence and a respected community elder.
He cautioned the youths against unnecessary and excessive consumption of alcohol and encouraged them to study and complete tertiary education, so that they can help build the new country.
The newly elected Chairperson of the Youth Association, Miss Elizabeth John Gum Lang, boldly underlined the youth vision in Western Australia and their determination to make positive contribution toward the long term building of the new country.
Also in attendance were some very important guests representing Government and Non-government Organisations. The Executive Director for the Office of Multicultural Interests, Maria Osman and Honourable Jenine Freeman, State Parliament member for Nollamara, an area where there are so many South Sudanese attending.
Hon' Freeman announced, on behalf of the Foreign Minister, Hon. Kevin Rudd, the setting aside of 11.5 Million Dollars by Australian Federal government, into a special fund for the rebuilding of South Sudan. She also mentioned a further 5 million Dollars for community recovery projects in South Sudan. This announcement was greeted with mammoth cheers, ululations and clapping.
The executive Director for OMI, Maria Osman congratulated Southerners and welcomed the birth of the new Republic.
Article viewed at: Oye! Times at www.oyetimes.com