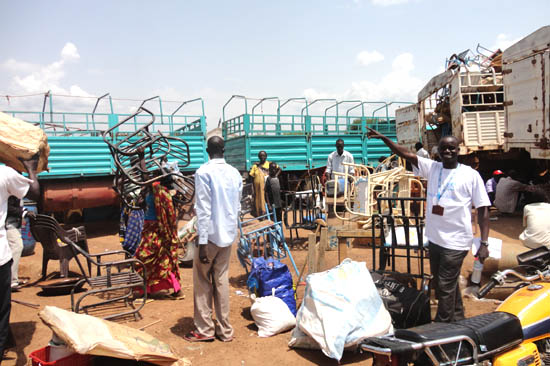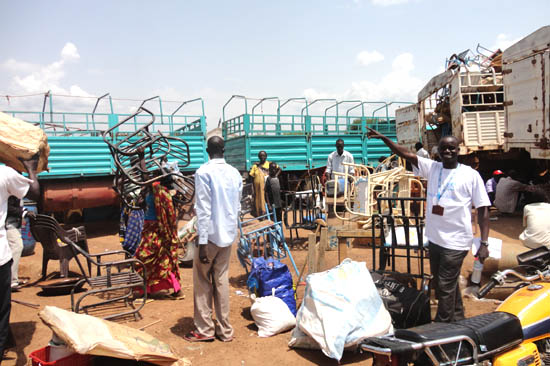 As the Republic of South Sudan enters post independence period following world's recognition after official proclamation on July 9, 2011 in Juba, an influx of returnees have continued to return home in large numbers from Khartoum.
The nineteenth convoy of returnees from north Sudan according to UNCHR's tracking arrived in Torit, the State capital of Eastern Equatoria State on Wednesday 13th July as Gurtong media witnessed. Relatives and friends joined the arriving returnees to help in offloading their heavy luggage.
The convoy involved 66 households with 256 individuals, a UNHCR Community Service Associate, in Torit, Mr. Tobias Lomuya Gabriel who was at the temporary campsite explained.
Gurtong spoke to majority of the returnees at their temporary campgrounds and they expressed gratification for joining their brothers and sisters in their new country; South Sudan.
Most of them who arrived in the State from Khartoum ahead of 2011 referendum in January, told Gurtong that they chose to return home to join their brothers and sisters and share their sorrow and joy of the long struggle.
The International Organization for Migration (IOM) in collaboration with the State supervision has been facilitating transportation of returnees from north Sudan to the south all the way to their respective States and until they get to their various final destinations in Counties, Payams and Bomas, Mr. Tobias told Gurtong.
United Nations High Commissioner for Refugees (UNHCR) supervises food distribution, while World Food Programme (WFP) provides food aid and transportation to weigh stations and Norwegian People's Aid (NCA) supplies Non Food items to the beneficiaries, he elaborated further.
He also clarified that the State authorities finally bears the responsibility of providing necessary or basic services to the returnees to settle well.
"So far, 19 convoys from north Sudan according to UNCHR's tracking have arrived in the State since last year as most of them have permanently been resettled by the State Government and respective County authorities in capital towns as others found their way and got absorbed with their relatives after the 3 months food ration programme," explained Mr. Tobias.
He added that apart from the 66 households the State received, the 1,006 households bring the total to 1,072.
Speaking to Gurtong at his office in Torit, a South Sudan Relief & Rehabilitation Commission's Deputy Director in Eastern Equatoria State, Mr. John Odongi Simon who anticipates a high influx of returnees said that out of the current returnees inEES, many of them prefer settling at the State headquarters; Torit notably in search of better services and jobs.
"This group is usually taken care by the Government in issuing plots to settle," added Odongi.
Article viewed at: Oye! Times at www.oyetimes.com