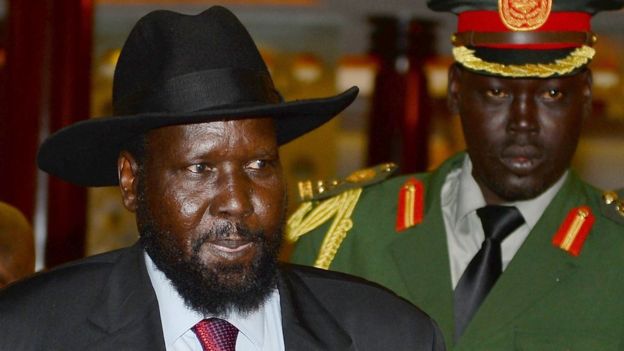 President Salva Kiir Mayardit on Friday pardoned all political detainees across the country including the former Governor of Wau State, Elias Waya Nyipuoc and his deputy, Andrea Dominic.
WAU, 11 March 20117 [Gurtong] – Kiir made the announcement during the national day for Prayers held at the Dr. John Garang Mausoleum in a bid to show his commitment towards peace in the country.
Waya was arrested on 26, June 2016 a day after he was sacked by the President from his position as Wau State Governor.
"I did not come to speak politics. I have come to pardon Gen. Elias Waya and Gen. Andrea Dominic" "If there are any other political detainees, I will release them all tomorrow and the day after tomorrow," said Kiir.
Mr. Edmund Yakani, the Executive Director of CEPO said the President demonstrated during his speech in the national prayer day a clear message for resolving the on-going political crisis.
"We are impressed that the H.E. the President responded positively to our long calls for release of political detainees and opening a new chapter for calling on a non-violence approach for settling our on-going conflict. Pardoning political detainees is a great action for peace. CEPO is urging all the armed forces to join the call for non-violence approach for resolving our political difference," stressed Yakani.