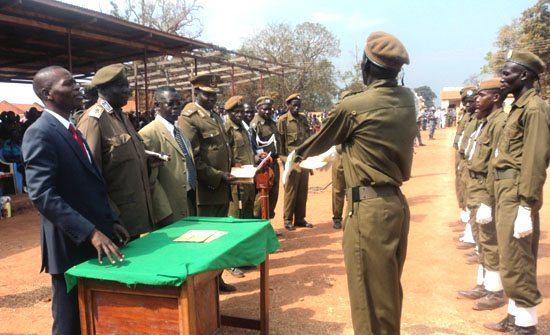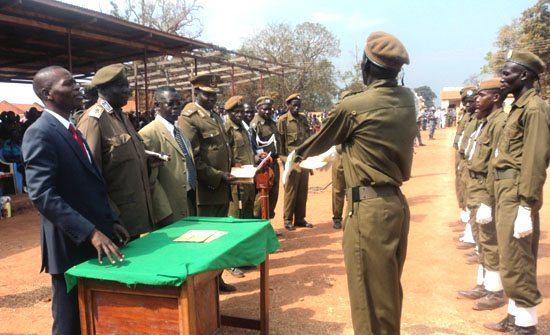 Western Equatoria State (WES) yesterday graduated 288 prison warders at Yambio freedom square in the presence of the National Director General for Prisons after 11 months of training, this is the first batch to graduate since Independence.
The WES Director General of prisons Lieutenant Ramadan Bullen Laku revealed that, it's a happy day for the graduates because they are pioneers who trained for almost a year without seeing their families.
He also said that, people should stop thinking that prison is only a building but it's an institution which trains life skills and human rights because they implement what the judicial laws order them to do, and without them judges will not exist.
Mr. Ramadan disclosed that, he is very grateful because of the good work the trainees have done and they should be good ambassadors when they go back to their respective Counties.
The Director General of Prisons in the Republic of South Sudan, 1st Lieutenant Abel Makoy Wol admitted that, he was very proud of WES because they just implemented the transformation of organized forces based on what the Minister of Interior Mr. Alison Manane Magaya promised the Republic.
He stated that, "these graduates have a lot of responsibilities because they have a new nation to handle so they need to be exemplary."
Makoy also congratulated the WES Governor Hon. Bangasi Joseph Bakosoro for being the first Governor to uphold the development of prison services. He urged that the officers should be deployed to Counties to train more people in prison issues.
Makoy then donated SSP 3,000 to the prison school and SSP 7,000 for the graduates and promoted a prison warden who served for many years in Yambio with discipline. Sergeant Major Edward Mohammed Pamba was promoted to the rank of Warrant officer.
Governor Banagasi Joseph Bakosoro urged the graduates to keep regulations and to stop overindulging in alcohol but to dedicate their serve to the nation.
He appealed to the trainees that deployment will be done regardless of their origin.
Bakosoro appreciated the efforts of the United Nations Mission In South Sudan (UNMIS) for their commitment in capacity building the prison sector and all the organized forces in the State.