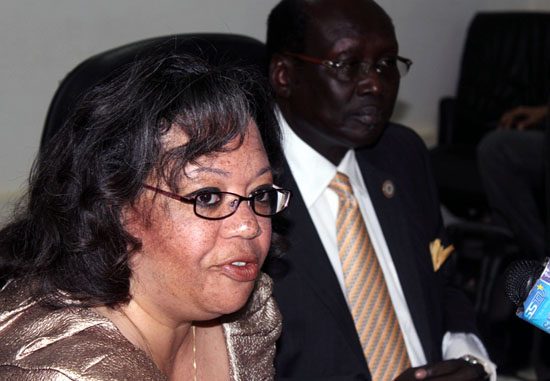 The United State Government yesterday told the government of South Sudan to tackle corruption in order to avoid sanctions and to boost investment.
The US Ambassador to South Sudan Suzan D. Page said this while addressing the press yesterday in Juba. She pronounced the United States' interest to see accountability and transparency in the South Sudanese government.
"We are looking forward to follow up arrangements so that we can hold every one accountable not just the government of the Republic of South Sudan but also donors," Susan said.
She also expressed her country's interest to closely ensure that, the South Sudan Auditor General's report unveiled in the previous month that showed millions of US Dollars embezzled is recovered.
"We are working with the United Nations and others to try to help the government of South Sudan remain accountable to finding these resources that seems to have been misplaced or misused," she revealed.
Last week the USA government lifted sanctions on South Sudan to export its oil without taxation. This is in order to boost investment in the infant nation and pave way for infrastructural development which is one of the critical challenges hindering investment in the country.
She also pointed out that, the recent concluded historic International Engagement Conference held in Washington DC solely organized by the USA was to introduce South Sudan as a new nation to the international community and also as a target to strategise better ways on how the economic challenges of the infant nation can be tackled globally.