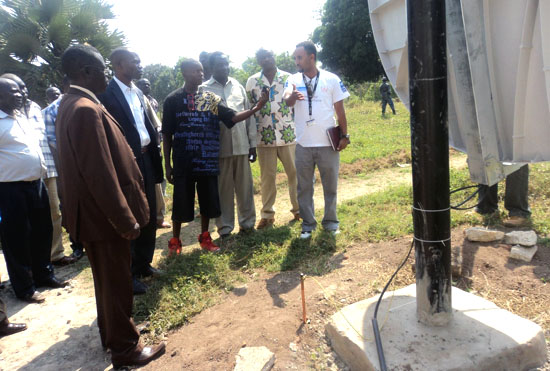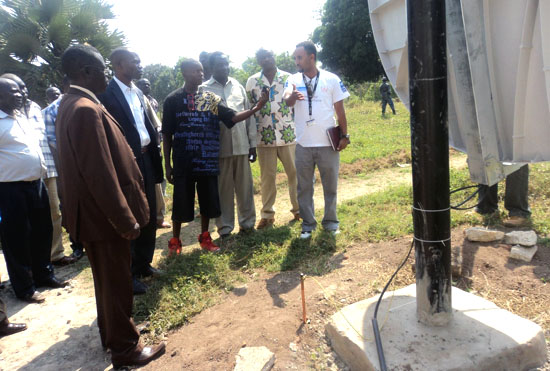 The Governor of Western Equatoria State (WES) Hon. Joseph Bangasi Bakosoro together with the State Minister of Local Government and Law Enforcement Mr. Sadiqi Wilson officially inaugurated the installation of two Very Small Aperture Terminal (V-SAT) antennas donated by the UNDP South Sudan.
This year, United Nations Development Program (UNDP) has donated a total of 4 V-SAT antennas to WES Government two of which were provided to the State Ministry of Health are yet to be installed for various reasons.
The Governor alongside other State officials visited the two sites where the antennas are installed at the State Secretariat office and the Ministry of Local Government and Law Enforcement premises.
During the inauguration ceremony, the UNDP State Coordinator for Western Equatoria State, Mr. Afewerki Gidey revealed that UNDP will continue to support the State building process by providing both capacity building as well as infrastructural support as part of its commitment to assist the State.
"We believe that the antennas provided to the State government will ease communication barriers between different branches of the government both at the State and national levels," Mr. Afewerki Gidey added
Mr. Sadiqi Wilson, the State Minister of Local Government and Law Enforcement said that UNDP had assisted his Ministry in various ways including capacity building training for administration officers, customary chiefs as well as in building relevant infrastructures for the Ministry.
"These antennas are a very important infrastructure which can help us to be interconnected and can facilitate our internal communications easily," the Minister said.
Mr. Sadiqi Wilson further explained that the antennas would facilitate effective communication among local government offices and it would minimize costs associated with traditional ways of communication.
Governor Joseph Bangasi Bakosoro stated that, UNDP had been assisting the State government in many ways in various sectors.
He further stated that the donation will have a significant role in introducing e-governance (Electronic Governance) system and to connect local institutions with one another.
"We are very much indebted for the support provided by the UNDP to us and we hope the organization will further train our staff on how to use these equipments effectively," the Governor said.